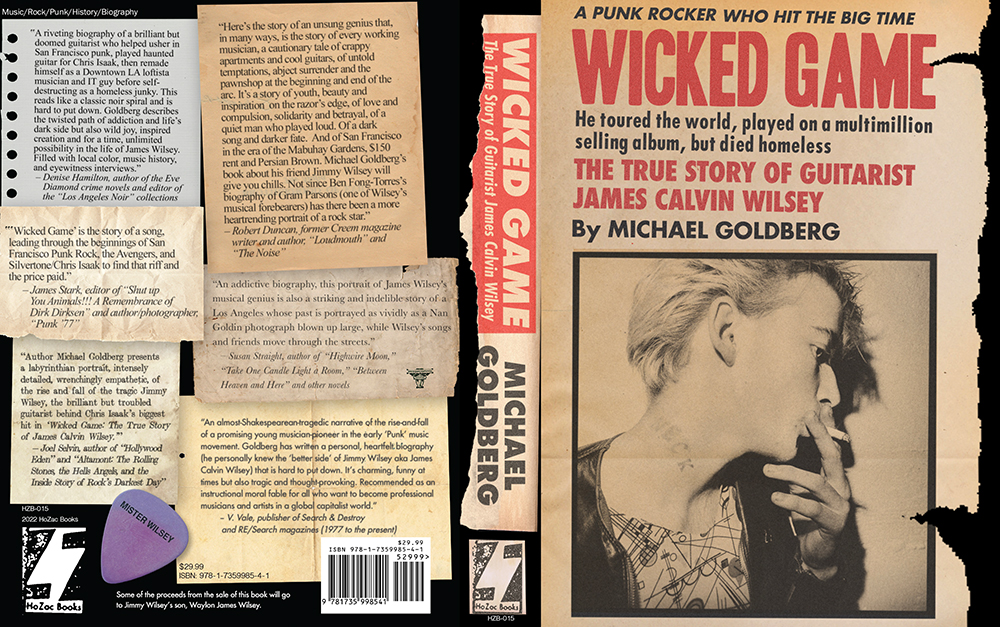 : Shipping July/August 2022
HZB-015
414 pages, paperback
1st EDITION of 500 copies: SOLD OUT
ISBN: 978-1-7359985-4-1
"This is the rock & roll book to read this year." — Bill Bentley, Americana Highways
For our 15th book release, we present WICKED GAME: The True Story of Guitarist James Calvin Wilsey by author Michael Goldberg. Another incredibly in-depth look into the dark side of San Francisco in the 1970s & 80s, and the dark side of rock 'n roll in general, through the wild life of one Jimmy Wilsey. From his vantage point on bass in SF Punk legends The Avengers in 1977, through his quick trip with Belfast Cowboys (with Rozz Rezabek from Negative Trend) and on into his next phase of real guitar virtuosity in Silvertone (the early band fronted by Chris Isaak which also included John Silvers from The Dils), Wilsey's life unfolded sadly as many others of his era and from this scene.
Full of amazing and previously unseen photos from the Michael Goldberg, Hugh Brown, Bruce Conner, James Stark, Sue Brisk, and Chester Simpson archives, and complimented with intimate interviews from his past relationships with Claudia Summers and Jennifer Rubin (Nightmare on Elm Street 3: Dream Warriors, Bad Dreams, The Crush, etc), everything looked so promising, until it wasn't…
: Shipping July/August 2022
James Calvin Wilsey: He was the "heart and soul" of SF punk band the Avengers, and worked with Chris Isaak for over a decade before he crashed and burned.
His hypnotic guitar riffs throughout "Wicked Game" made Chris Isaak an international star. His story is the story of San Francisco punk rock, the story of one of the greatest punk bands, the Avengers, "the story of every working musician," as Robert Duncan puts it, and the nightmare of drug addiction.
Jimmy Wilsey's story is the story of the dark side of rock & roll.
Includes over 100 photos and flyers by avant-garde artist Bruce Conner, Avengers singer/songwriter Penelope Houston, Blondie's Chris Stein, Ruby Ray, Chester Simpson, Sue Brisk, Marcus Leatherdale, Amy Starks, Michael Zagaris, Hugh Brown, James Stark, Jimmy Wilsey and others.
Michael Goldberg will be donating 25% of his book royalties to Jimmy Wilsey's teenage son, Waylon James Wilsey.
Check out a feature on the book at POP MATTERS right HERE
Author Michael Goldberg is a journalist, novelist, and photographer. He has been interviewing and photographing musicians since he was seventeen. He was a senior writer at Rolling Stone magazine for a decade. His writing also appeared in Esquire, New Musical Express, Creem, DownBeat, New York Rocker, Trouser Press, Musician, New West, Vibe, New Times, the San Francisco Chronicle, and other publications. He was had three novels published: True Love Scars, The Flowers Lied, and Untitled. Author Simon Warner wrote, "Michael Goldberg has his finger on the pulse, his foot to the beat, his hip to the rhythm and his ears peeled for the cadences of rock & roll's raucous jibber-jabber."
Advance praise for Wicked Game: The True Story of Guitarist James Calvin Wilsey:
"Here's the story of an unsung genius that, in many ways, is the story of every working musician, a cautionary tale of crappy apartments and cool guitars, of untold temptations, abject surrender and the pawnshop at the beginning and end of the arc. It's a story of youth, beauty and inspiration on the razor's edge, of love and compulsion, solidarity and betrayal, of a quiet man who played loud. Of a dark song and darker fate. And of San Francisco in the era of the Mabuhay Gardens, $150 rent and Persian Brown. Michael Goldberg's book about his friend Jimmy Wilsey will give you chills. Not since Ben Fong-Torres's biography of Gram Parsons (one of Wilsey's musical forebearers) has there been a more heartrending portrait of a rock star."
– Robert Duncan, former Creem Magazine writer and author of Loudmouth and The Noise
"A riveting biography of a brilliant but doomed guitarist who helped usher in San Francisco punk, played haunted guitar for Chris Isaak, then remade himself as a Downtown LA loftista musician and IT guy before self destructing as a homeless junky. This reads like a classic noir spiral and is hard to put down. Goldberg describes the twisted path of addiction and life's dark side but also wild joy, inspired creation and for a time, unlimited possibility in the life of James Wilsey. Filled with local color, music history, and eyewitness interviews."
– Denise Hamilton, author of the Eve Diamond crime novels and editor of the "Los Angeles Noir" collections
"Wicked Game is the story of a song, leading through the beginnings of San Francisco Punk Rock, the Avengers, and Silvertone/Chris Isaak to find that riff and the price paid."
– James Stark, editor of Shut up You Animals!!! A Remembrance of Dirk Dirksen and author/photographer, Punk '77
"Author Michael Goldberg presents a labyrinthian portrait, intensely detailed, wrenchingly empathetic, of the rise and fall of the tragic Jimmy Wilsey, the brilliant but troubled guitarist behind Chris Isaak's biggest hit in Wicked Game: The True Story of James Calvin Wilsey."
– Joel Selvin, author of Hollywood Eden and Altamont: The Rolling Stones, the Hells Angels, and the Inside Story of Rock's Darkest Day
"An addictive biography, this portrait of James Wilsey's musical genius is also a striking and indelible story of a Los Angeles whose past is portrayed as vividly as a Nan Goldin photograph blown up large, while Wilsey's songs and friends move through the streets."
– Susan Straight, author of Highwire Moon, Take One Candle Light a Room, Between Heaven and Here and other novels
"An almost-Shakespearean-tragedic narrative of the rise-and-fall of a promising young musician-pioneer in the early 'Punk' music movement. Goldberg has written a personal, heartfelt biography (he personally knew the 'better side' of Jimmy) that is hard to put down. It's charming, funny at times but also tragic and thought-provoking. Recommended as an instructional moral fable for all who want to become professional musicians and artists in a global capitalist world.
– V. Vale, publisher of Search & Destroy and RE/Search magazines (1977 to the present)
"Goldberg's meticulously researched biography delivers a deep-hearted and poignant account of the rare and extraordinary creative talent who—following his legendary entry into the music scene as bass player for San Francisco's primeval punk band, the Avengers—crafted the incomparable yearning two-note opening to Chris Isaak's 'Wicked Game.'" — Marc Zegans, Pop Matters
"… a true tribute to an idiosyncratic and gifted musician." — Lenny Kaye, Patti Smith Group guitarist, author and rock critic
"From the start, Goldberg makes it clear that Wilsey was a friend of his but, while he writes with what is clearly a lot of affection for Wilsey, he's not blind to his shortcomings or the bad choices he made with his life. What emerges from this book is the complex story of a complicated man." — Rick Bayles, Americana UK
"I could see the heartbreaking arc of his life from beginning to end. I felt like I understood him. That is an astounding accomplishment for any biographer, and a gift to all of Jimmy's fans. … Michael Goldberg was friends with Jimmy Wilsey, the brilliant guitarist who was the best thing about Chris Isaak's best songs. Without trying to excuse Jimmy's many failures, Goldberg makes us understand and feel deeply for his pain. WICKED GAME is required reading for anyone who loved the anguished cry of Jimmy WIlsey's guitar, and recommended to anyone who cares about the way that art is made." — Lewis Shiner, author of Frontera and other novels
PRE-ORDER HERE
: Shipping July/August 2022
HZB-015
414 pages, paperback
1st EDITION of 500 copies :SOLD OUT
ISBN: 978-1-7359985-4-1