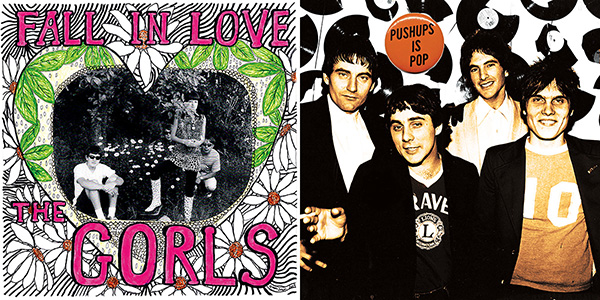 HZR-216 + 217
SHIPPING NOW: HoZac Archival Winter Archival LP 2-Pack
HoZac Archival presents two new releases for Winter 2020:
THE GORLS Fall In Love (1992-93 Archival) LP :
Finally unleashed after sitting in the can for close to 30 years, the debut LP from The GORLS is here to knock your socks off. Featuring Seattle lo-fi legends ROB VASQUEZ (Night Kings, Nights and Days, Pissed Off Zombies, etc), DAWN JOHNSON (Man Tee Mans, Chintz Devils), Donnie Hilstadt (Statics, Dutchess & the Duke, Sultanas, Nice Smile), and DYLAN MAIDEN (Night Kings, Flathead). Primitive female-fronted SHIT-O-FONIC GOLD!
PUSHUPS Pushups Is Pop (1979-80 Archival) LP
The ultra-obscure San Francisco power pop unit known as PUSHUPS blasted forth from the ashes of ZOLAR X, and features core members Ed Dorn and Zory Zenith in their AURORA PUSHUPS early period. The band was reborn and streamlining their sound into 'PUSHUPS' – they released two rare singles in '79, but the remaining grip of deftly-constructed air-tight & revved-up synth-soaked power pop classics sadly never saw the light of day, until NOW.