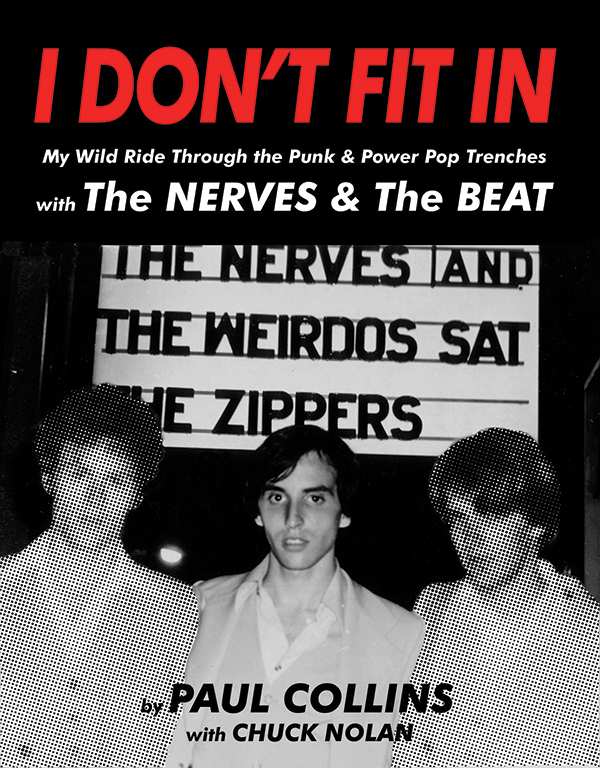 HZB-009
272 pages, paperback
FIRST EDITION of 500 copies: SOLD OUT
SECOND EDITION of 500 copies: AVAILABLE SOON
ISBN: 978-0-9963319-9-9
After two long years of painstaking research and development, we present to you, the first major memoir covering the birth of DIY Power Pop, from Paul Collins. From its initial conception as a film script to its re-birth as a full-bore rock & roll revelation, this is one crazy story from beginning to end. Outlining the first National DIY cross-country tour by an unsigned band in 1977, and by default, creating the pathway for the true indie underground network of the 80s to take as a template. It wasn't even a second thought for Collins and bandmates Peter Case and Jack Lee, but the underground rock & roll world is a better place for it. But until now, the real details of the origins of The Nerves, Breakaways, and The BEAT have eluded most of us, so with this tome of incredible survival stories from the trenches, Paul Collins opens up and reveals all the drama, victories and defeats with such an impassioned voice, you won't be able to put it down. The coverage of the pre-Punk 1975 landscape of both LA and San Francisco is unmatched, and your mind will be BLOWN.
Featuring TONS of previously unseen photos, flyers and ephemera from the earliest days of The Nerves lineup as a FOUR PIECE, to the legal documents challenging The Paul Collins BEAT vs The English Beat, to the ill-fated Nerves reunion, and so much in between. Truly a smorgasbord of juicy details and revelatory discoveries await, balancing the failures with triumphs from the mid 1970s to the mid 2000s, when Paul returned to the touring circuit. From literally renting out a space for the first documented Punk show in Los Angeles in March of 1977, to The Screamers story about buying a copy of The Nerves EP at the Capitol Records swap meet and smashing it to pieces- it's all in there, along with so many more soon-to-be-legendary tales from the real trenches you don't usually rise out from unscathed…
PROMO POSTERS :

DANGEROUS MINDS chapter excerpt feature HERE
Paul Collins interview on Hanging On the Telephone Podcast HERE
Stream the Paul Collins' BEAT video collection HERE: