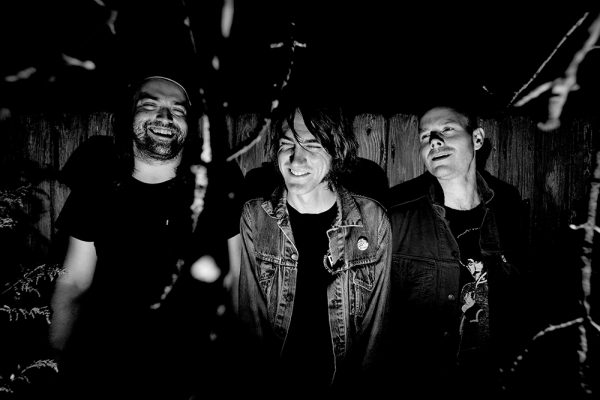 When your landlord is one of the electric eels, you know it's gonna come out UGLY…
Chicago's most intricate punk heathens are back with their second full-length, and if you already know their sound, it's important that you bolt down the furniture, we can't be responsible for this kind of punishment when you've already dealt with their recklessly "endangering" debut. This band has evolved so much in the past five years, it's hard to even imagine their massive strides of punk progression, let along their ability to conquer the impossible tension that most band can't even reach in their wildest dreams. The local talent has eroded in recent times to a point of panic, yet The Sueves are still standing, brutally pushing your face into the fire, with one of the last examples of a physically abusive guitar tone left on domestic soil, and one of Chicago's best and purest rock'n roll byproducts. Strangulated vocals, nervous & bashing riffs, and soul-crushing bass lines all coalesce into perfectly absurd punk anthems that shouldn't make any more sense to Joe Strummer than they do to Gaye Advert, yet they swerve and pop like nobody's business.
In case you hadn't witnessed their live unit, The Sueves now employ Tim Thomas on drums, known for his endless battery charges in Heavy Times, and his reputation of breaking into everyone's heart without permission or warning continues here. With Joe Schorgl's Cleveland origins and Thomas' Detroit history, the Midwest Rust Belt heritage is finally all locked in place. Just take a second to listen to those beaten-in vocals breaking through that spidery guitar hatchet racket, it's never been a clearer death toll sounding for mediocrity, and we couldn't be more excited to rip your head off with another bludgeoning blockbuster from The Sueves.
—
Chicago's punk underworld has reimagined itself several times over the past twenty years, from the cavorting slime punk damage of the early 2000s, through the fracturing of styles and directions a few years later, it's all been simmering salaciously for generations now, and for the last few years, only a few really noteworthy band have grasped the raw agitation as well as The Sueves. Rearing their ugliness up through the tropes of plastic flowers and goofy sunglasses, these brave young ravagers are not content to sit idly by as the stench of indifference passes over the masses, always the "least chill" band at the rock'n roll party and that is really a good thing. You can't just sit still when The Sueves are wielding their wares, both in person and on record, the aggression has to burst out somehow, and although it's far, far easier to just appeal to the low-hanging fruit dangling at the bottom of the rock'n roll food chain, it's far more respectable to be the ones who are bleeding and bruised, flipping over the tables & chairs with reckless abandon, every single time.
The Sueves' core sound echoes back to a time not long ago when you really had to TRY HARD to make your band stand out, pushing the boundaries of the tired "garage rock" trappings into a mutated stump of unpredictable punk splatter. The guitar tone sits somewhere between sadistically strangulated and blisteringly complicated, an ominous bonafide shredding sound that leaves you beaten and beleaguered and gasping for more, even with such serrated hooks dug in so deep. And while their less-than-shocking appearance keeps them hidden within their surroundings, it's this visceral noise emanating from their sizzling weapons of choice that clearly sets them apart, constantly reminding you of the nastiness that lies within true rock'n roll savagery. The nuances are sickening, the delivery desperate, and that oh-so-impossible tension all tie together with The Sueves on this debut LP to level your expectations and decimate your dreams of a low-key existence.
—
Chicago is clearly in the midst of a new rock'n roll revival, with floods of great new young bands ripping up the spots on a weekly basis, and rising to the top of that immense heap, are The Sueves. Punishing static hiss coupled with tough-as-nails riffs, careen down a belligerent groove, with immense, crushing noise that comes right to a halt, only to resume with even more thunder. Frontman Joe Schorgl's vocals will get right under your skin, with such a classic scream already in place, and such an agitated delivery, he's bound for the big time. I mean how else would your band sound if the guitarist from the electric eels was your landlord?
The Sueves blast forth with a blizzard of treble-soaked noise, and once Joe's spidery guitar, along with Rob's vicious bass lines, and Andy's shambolicly acute drumming really kick in together, they just explode, and they've clearly got that elusive "tension" so many bands just can't get right. We're extremely excited to get this debut 7″ out into the world, so don't sleep on this raw and trashy debut single from one of Chicago's top bands, busting right out of the gate and right into your dreams and nightmares. – Victimoftime.com
——
Recommended If You Like: LIQUIDS, The Reatards, Baseball Furies, Hot Snakes, Night Kings, Mistreaters, Young Indentities, Guilty Pleasures, Chrome Cranks, MAMA, Gross Pointe, Flesh Panthers
————————–
RELEASES:
R.I.P. Clearance Event LP (HZR-187)
Gold edition of 100 : SOLD OUT
1st press black edition of 400 Available HERE

——
Change Your Life debut LP (HZR-187)
Gold edition of 100 : SOLD OUT
1st press black edition of 300 : SOLD OUT

——
Liquor Hounds b/w Bricks 'N Bones debut 7″ (HZR-166)
Gold edition of 100 : SOLD OUT
1st press black edition of 300 : Available HERE

——