Four Strings, Phony Proof, and 300 45s – by Sal Maida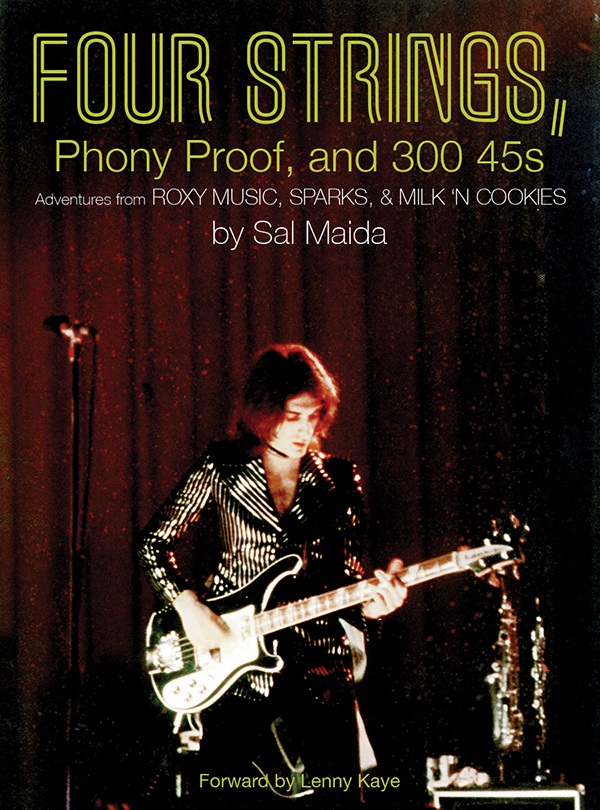 HoZac Books is proud to present Four Strings, Phony Proof, and 300 45s, written by Sal Maida, one of the most interesting 1970s rock figures you just don't know enough about. As a member of TWO such integral and ground-breaking 70s bands, ROXY MUSIC and SPARKS, not to mention NYC glam/power pop impresarios MILK 'N COOKIES, as well as studio work with the RUNAWAYS and Robert Calvert's post-Hawkwind solo material, it's no secret that Maida was in the right place at the right time, more times than we can count. His first book is presented here for the first time, along with his stash of personal UNPUBLISHED/UNSEEN photographs (including meeting Paul McCartney, George Harrison and Mick Jagger in 1969) on his first of many trips to the UK in the late 1960s, as well as many bands he witnessed in their embryonic states just as the monumental shift in music was taking place at the end of the psychedelic era. From his intricately-detailed stories about growing up in Little Italy's protected confines, and his far-ahead-of-the-curve craze for record "collecting" before that was even a concept, this book takes you on a ride through Martin Scorsese's mob territory (they grew up only a few blocks apart) and how it's inescapable soundtrack influenced him deeply, as well as the unbeaten paths deep within the music-obsessed trenches we all love so well.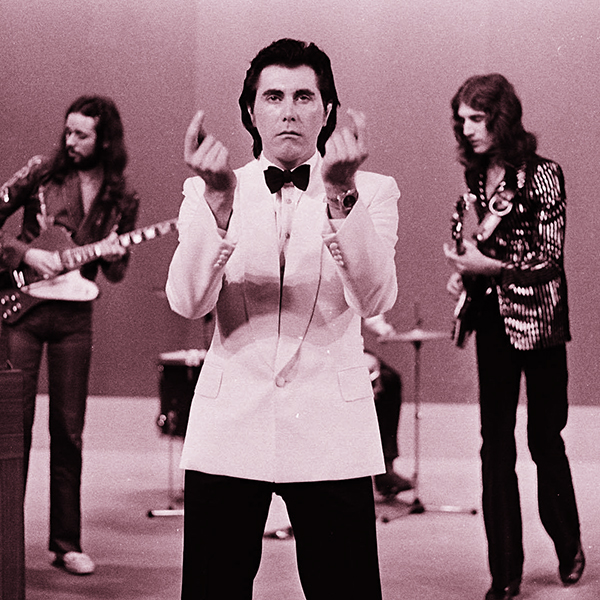 Sal Maida's laid-back personality and his dextrous musical adaptability ensured he'd be in high demand once his chops were in place, and Four Strings, Phony Proof, and 300 45s solidifies his incredible knack for catching a rare opportunity every time it came across his path. His stories are nothing short of fascinating glimpses into a far-gone era, even to those of us with extensive piles of punk history books will rejoice at hearing. Watching a young, pre-X Exene Cervenka and "punk groupie" Farrah Fawcett Minor getting kicked out a Rick Derringer show in early 1977, which led to them becoming close friends and roommates, or Tom Waits getting into a fight with a cop in Sal's defense in an LA diner, or seeing David Bowie perform an acoustic set with Mick Ronson in 1971 to a small room of people, it all has to be read to be believed, as well as all the other incredibly eye-opening tales contained therein.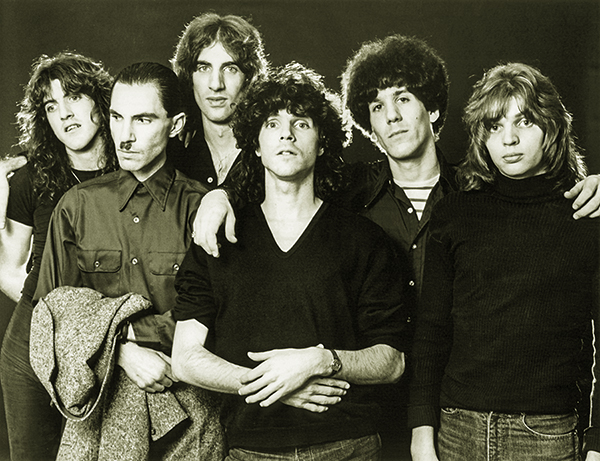 Maida just happened to be in so many places when so many historic events transpired it will quickly make the reader green with envy. Maida's amazing experiences straddled the line between mainstream 60s pop music, 70s proto-punk, and early New Wave like few others have, and he's still luckily at it today, even recently touring with the likes of Mary Weiss of the SHANGRI-LAS, who personally wrote the back cover blurb on this book. Four Strings, Phony Proof, and 300 45s is the key to those lost tales of rock'n roll adventure, and we are very excited to finally share it with you, not to mention the last section of the book where Sal meticulously lists his 300 essential 45rpm singles, all with riveting footnotes sure to send you into a obsessive frenzy.
Forward by Lenny Kaye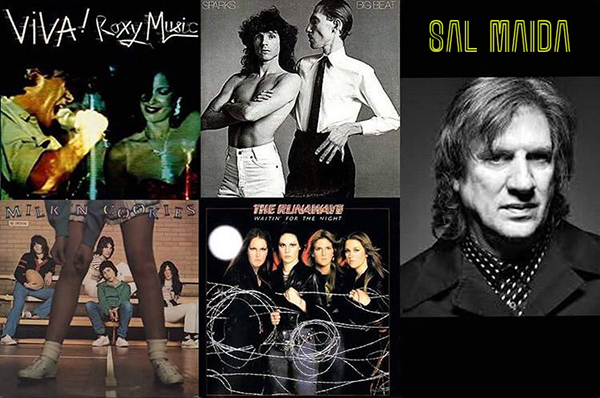 —————————–
"Sal Maida – even the name sounded glamorous and exotic to a spotty and gauche teenager from the London suburbs obsessed with all things glam rock.  With his noble mane, Granny Takes A Trip stage clothes, his blue Rickenbacker bass, his thunderous sound and…more than anything – he was in Roxy Music. And then he was in Milk N' Cookies. And then he was in Sparks. The list goes on and on."
–PHILIP KING, (Jesus and Mary Chain / LUSH / The Servants)
—————-

"Sal Maida is taller than me. That's saying something, considering I stand at 6'3". But I look up to him for other reasons. Besides a few inches, Sal's also got a few years on me. As such, some decades ago he got to cover some very groovy ground that I could only dream about. As it was for Sal, rock & roll ruled my world since the early 1960s. I gobbled up 45s and LPs.TV appearances by The Beach Boys, The Four Seasons, The Beatles, The Honeycombs, Roger Miller, The Kinks, etc. clued me in to how my heroes looked and moved. Hit Parader, 16 Magazine, Rolling Stone and all the rock publications were routinely devoured.
But I was just a little too young to go to shows in the '60s. I started attending concerts right after the Fillmore East closed in 1971. So that's why I'm so stoked that Sal wrote this book. I – we – can all live vicariously through my big bro's eyewitness account of a cultural revolution that will never happen again. I mean, he freaking saw The Kinks, The Dave Clark 5 and The Stones at The Academy Of Music on 14th St in NYC in 1965! He even caught The Idle Race live! And that's just the tip of the iceberg.
And not only that: While I was borrowing bass drum pedals and cymbals from friends to piece together my first drum set in the late '60s, Sal was already on his way to playing with some of the coolest bands on the planet. You will surely dig his memories of growing up in Little Italy. (I'm reminded of the story a friend once told me about unwittingly ambling into a "members only" club on Mulberry Street in search of an espresso. The incredulous wiseguy behind the bar obliged but quickly queried, "you want that to go, right?" But I digress.)
I was gobsmacked to find that Sal's list of fave 45s was amazingly close to mine. Besides a shared passion for great music, another thing that bonds us is our abiding devotion to the Abbott & Costello television show from the early 50s (not the films so much). Many an hour in a van en route to gigs were whiled away lovingly recalling dialog from characters like Mr. Fields, Stinky, Mike the Cop, Bud, Hilary Brooke, et al. But again, I digress… I'm happy to say that Sal's story is far from over. He continues to be in demand for his redoubtable musical talents. I've been fortunate to have played with him on a bunch of live dates and sessions. We lock in pretty effortlessly and, if I may, we make for a formidable rhythm section. Don't hesitate to call on us if we can ever be of service to you.
So, dear reader, take this amazing journey with the gentle giant who was lucky indeed to be in the rightest of places in the coolest of times. I only wish you could "hear" every page in Sal's endearing lower east side brogue. No tall tales here!"
–DENNIS DIKEN, (The Smithereens, Mary Weiss Band, Dave Davies Band, WFMU)
—————-

"Sal Maida is the real deal. Sal and I were born five months apart, so our history in music and our love of music go back a very long time. We are both from New York, born and bred. I was truly impressed to hear that Sal is writing a book about his adventures in the music industry. I toured with Sal in the U.S. and in Europe in 2007 and 2008, for my solo tour of the Dangerous Game album. It is a great pleasure to be on the road with Sal anytime.
One of my favorite images is of 6'-6" Sal crammed into an airplane seat for eight hours smiling and grooving to the music in his head phones. He always appears comfortable, even if he may be far from it. I consider that an art form in itself. When everyone else is getting stressed out from things going wrong on tour, he always manages to take it all with a grain of salt, a smile, and a kind word, which always made me calm the hell down.
War stories from the music business are always interesting to me, but when they come from someone who is such a fine musician, decent human being and never seemed to buy into his own P.R., it becomes real.
Sal Maida has lived and breathed music much of his life, now we get a peek inside the reality of that life. I did not know Sal in the sixties but it would have been a pleasure to work with him when my own group was on the road and traveling the world. I am sure we have seen many of the same concerts, and have met many of the same people.
Sal is an excellent musician, he also happens to be one of the nicest people I have ever met within the music industry. I consider him and his wife Lisa great friends.
Tell it like it is- Sal…"
–MARY WEISS, (The Shangri-Las)
—————-

"Sal Maida should have replaced Bill Wyman in the Rolling Stones"
–KIM FOWLEY
—————-
CHECK OUT AN EXCERPT from the book as featured on VICE/NOISEY right here
FREE PROMO POSTER (while supplies last)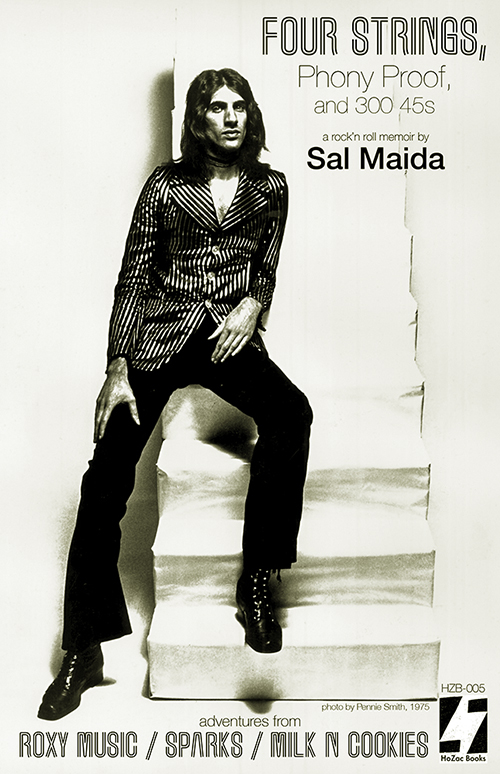 HZB-005
180 pages
First edition of 400 copies
ISBN: 978-0-9963319-4-4
————————–
ORDER HERE: