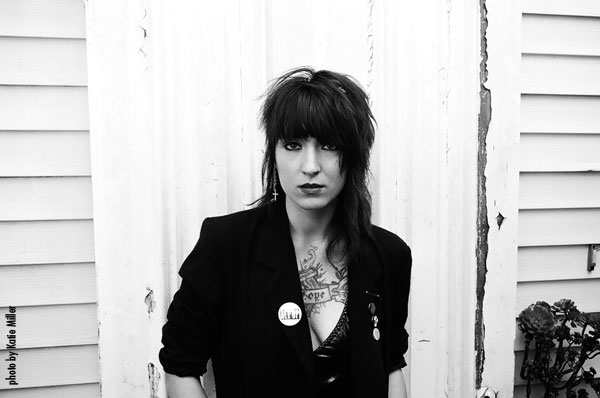 The San Francisco Bay area's most promising breakout, and formidable female-fronted pop wonders are not who you may already believe or expect. Lead by the enigmatically agitated Heather Fedewa (aka Hether Fortune, ex-Hunx & His Punx, Bare Wires, and also currently a member of CastleFace Records' Blasted Canyons), Wax Idols straddle the line between ripping tough/tender post-punk/goth-pop, and irresistibly anthemic indie rock hooks, somewhat like Joan Jett would sound like tearing through Best Coast with a chainsaw or if Mary Monday had been a member of Wire. Your curiosity may have already been piqued from their unabashed debut 7″ "All Too Human," released on Hozac earlier this year, but it's hard to imagine anyone being ready for an LP of this caliber, bursting at the seams with hits for all seasons, and effortlessly blurring the lines between viciously beautiful temperance and an unwavering, attitude-soaked attack on your comfort zone. With an arsenal of songs that range from chest-pounding melodic punk screamers, to tense-yet-tumultuous tracks of sadness overcome with bombastic pop precision, 'No Future' is one of the most impressive LPs we've had the pleasure of releasing, and one we're sure will go far. Fedewa's uniquely surly-yet-sultry voice has such an lasting impact, it seamlessly traces the gamut of human emotions back & forth from the unhinged heights to the inescapable doldrums, all tied up in perfect blasts of modern pop/post-punk subdued simplicity that are as upfront and immediate as any of of their legendary influences.
Recommended If You Like:
Mary Monday, Joan Jett, Joy Rider & Avis Davis, SUPER WILD HORSES, Jay Reatard, Ty Segall, Wire, Lydia Lunch


>>LISTEN HERE
>>Check them out on Facebook
Official video for "Gold Sneakers" Directed by Hayden Sheibler:

WAX IDOLS – GOLD SNEAKERS from Hayden Shiebler on Vimeo.
Official video for "Dilno" Directed by Hannah Lew:

Dilno by Wax Idols from Hannah Lew on Vimeo.
Official video for "All Too Human" (from the debut 7″) Directed by Hayden Sheibler:

WAX IDOLS – ALL TOO HUMAN from Hayden Shiebler on Vimeo.
————————–
RELEASES:
No Future debut LP/CD (HZR-094) ORDER HERE:
——
'All Too Human' b/w 'Gooey Gooey (William Says)' debut 7″ (HZR-086)
1st press Black edition of 500: SOLD OUT
Red edition of 175 available soon
Available HERE:
——
'All Too Human' b/w 'Gooey Gooey (William Says)' debut 7″ (HZR-086)
Gold Edition of 200 SOLD OUT