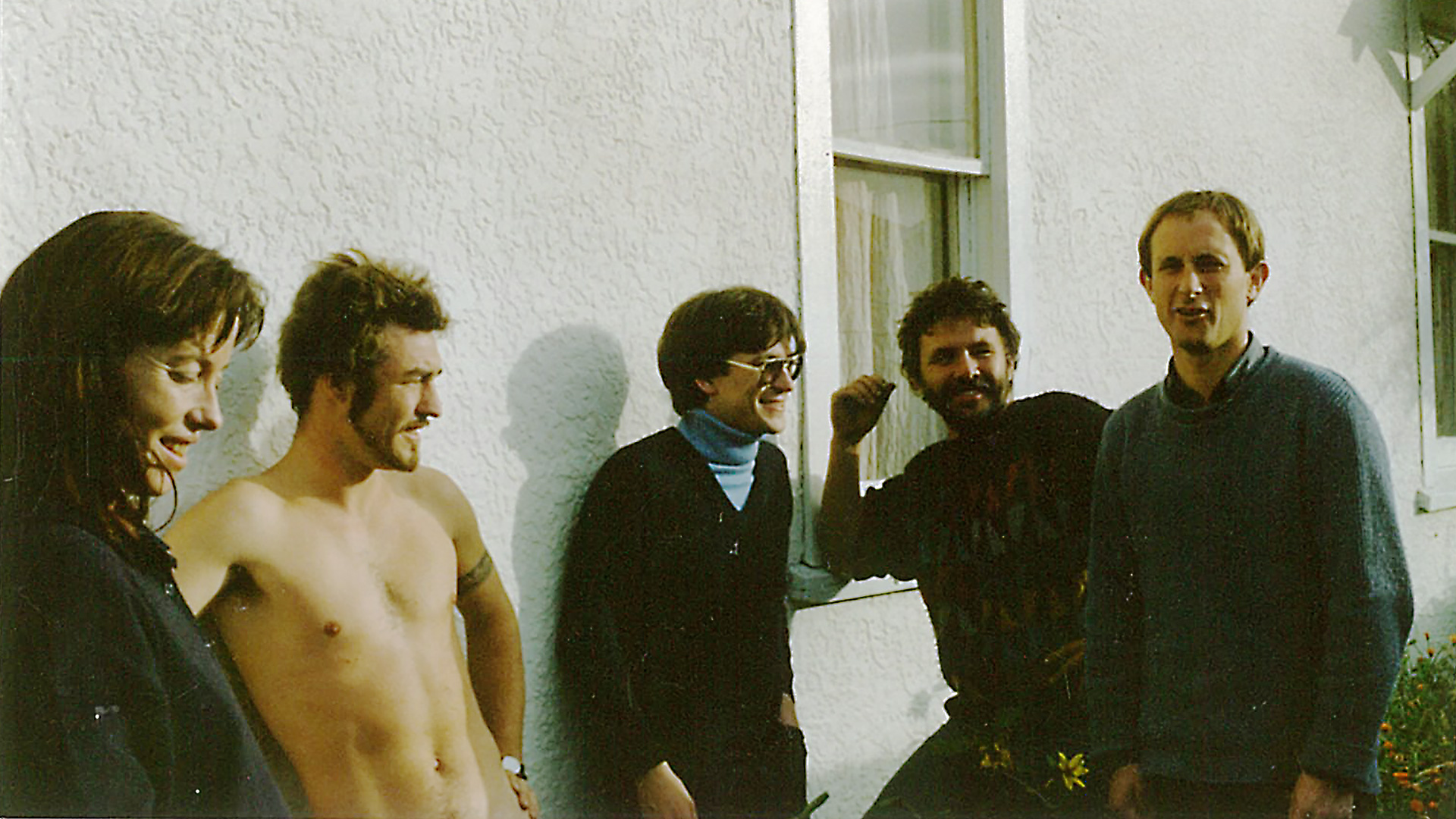 We are proud to present our first New Zealand band and luckily one of the finest to ever grace the Flying Nun label. The Terminals were a mid-late 80s-era supergroup featuring many important shards of the Kiwi underground, including core members Peter Stapleton, Mary Heney, and Ross Humphries from the very first Flying Nun release, the monumental Pin Group, joined with Susan Heney from The McGoohans, as well as Stephen Cogle from Vacuum and Victor Dimisich Band. Hard to keep all those intersections straight, that's for sure, but this intense, brooding and ominous cadre of players have pulled together some of the darkest sounds to ever emanate from the isle. It's hard to pick favorites with The Terminals, but 'Uncoffined' their debut LP recorded in 1988 seemed like the best place to start. It's hard to believe something this dark and twisted could also be so catchy, sounding like not much else from the time, The Terminals never caught the indie rock afterglow that label mates The Clean, The Bats, or The Verlaines got, yet their catalog of dubious releases is still being discovered, even now as we speak.
Remastered from the original tapes to revive what was lost in the haze of limp late 1980s studio mastering techniques, this improved version sparkles with hostility, the sheen of atmospheric shadows interlaced between tension-building crescendos, The Terminals 'Uncoffined' is a lost masterpiece of Antipodean dark wave pop music destined to reinstate it's place in the annals of underground music history. – VictimofTime.com
——
"Talent means nothing in rock music unless you can sound different from everyone else, and sounding different from everyone else doesn't necessarily require talent in either instruments or vocals. Some even call it a hindrance. Particularly with vocalists, it's often a matter of chance; if you happen to have been born with a distinctive voice, you immediately stick out from the crowd. In Stephen Cogle, New Zealand's Terminals have a singer who is so unearthly and devastatingly direct that he hardly seems human.
The Terminals began in the late '80s in Christchurch from the ashes of amazingly obscure experimental combos like the Pin Group and the Victor Dimisich Band. According to resident oddball Roy Montgomery, Christchurch's bands were made up of "people who were not well-adjusted socially." That seems apparent now, but you wouldn't have guessed it from the Terminals first two albums, Disconnect and Uncoffined, brilliant outpourings of crisp, sparse jangle that still stand as Kiwi-pop's greatest achievement ever. Flying Nun's combined disc of the two, Cul de Sac, is easily one of the top 10 albums of all time. But then Clean pop-man Russ Humphries left and was replaced by Renderers guitarist Brian Crook, who tilted the group back to their roots in a louder, more experimental direction. Both Touch and Little Things featured dramatic (but not melodramatic) songs full of harsh, wailing synthesizers and Crook's patented guitar squeals, all squeezed into amazingly strong, structured songs.
Crook is a fine guitarist who owes little to typical noise clichés and can actually play compelling figures, while keyboardist Mick Elborado is able to provoke all sorts of creepy moods from his organs. But it would all be for naught if not for singer/songwriter Cogle's voice. Like the Tindersticks' Stuart Staples and Joy Division's Ian Curtis, he combines commanding presence with an overwhelming intensity. Somewhere between a tenor and a baritone, flying up into the high registers with needle-like precision at the most emotional points, his voice has a bizarre quiver that invests everything he sings with an almost operatic scope. I can't even come close to describing him–you have to hear him. Yes, you have to." –David Auerbach
——
"Terminals' origins are in the Victor Dimisich Band, a Christchurch group focused more on garage than pop. When that outfit (which never included anyone named Victor Dimisich) broke apart, several members joined Bill Direen in the Bilders, while the majority became Terminals. Creating a niche of their own within the brainy, wistful New Zealand pop sound of the Bats, Chills and others, Terminals ignored the sweetness of their compatriots' music to embrace the dark side, pointing the quartet closer in spirit to Australia's Birthday Party. The songs are like a messy emotional archaeological dig in which the excavation of pained feelings also unearths a few shining fragments.
The change in guitarist Stephen Cogle's vocals charts the transition between the band's first two recordings. Although he retains a Syd Barrett-like edginess on both, the neat warbling drawl he evinces on Disconnect is smoothed out on Uncoffined. The shift costs him some uniqueness, which he later made up for in clarity and intensity. Both records include tense, random organ mixed with brief squiggles of guitar feedback, anchored by drummer Peter Stapleton, who thuds on his small kit like mausoleum doors slamming." – Robin Edgerton / Trouser Press

——
Recommended If You Like: Pin Group, Joy Division, Victor Dimisich Band, Birthday Party, Bilders, The Clean, Scorched Earth Policy, the dark side of New Zealand pop…
————————–
RELEASES:
Uncoffined LP (HZR-189) HoZac Archival #21 (1988)
1st press black edition of 500
Available HERE

——