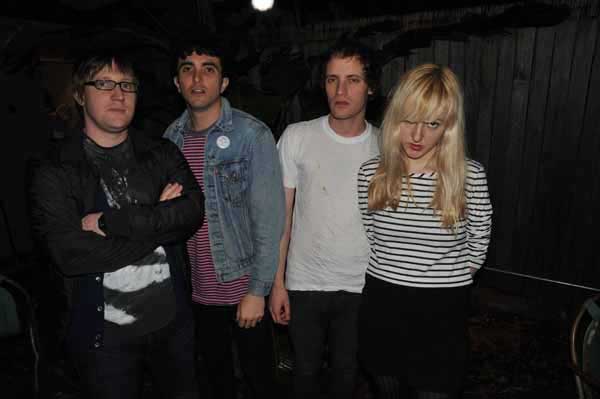 Since releasing It's Happening in 2010, they've been touring the USA, releasing albums in the UK, cassettes in the USA, 7" singles in the USA and Italy, gracing the stages of the Sydney Opera House for Vivid Festival and headlining Sydney Town Hall as part of Sydney Festival. Who said punk isn't high culture? Amongst all the madness, touring, recording, working, the Straight Arrows were writing their follow up album 'Rising' which is now set for release this June 13 2014 via Rice Is Nice Records (AUS), Agitated Records (UK / EU) and Hozac Records (USA). 'Rising' was recorded half at front man Owen Penglis's house and the other half in his new, legitimate Goliath Professional Record Studio, which was something Owen had to build after a new neighbour started getting mad about all the quality hit recordings happening next door.
The result? Dancing music. Garage Punk nuggets that will get you up out of your dronesome slumber and force some serious rug cutting antics. This is hairy fuzzed out psychedelic garage pop without the patchouli-scented kaftans. Is it reckless? Is it fun? YEAH! Derr….it's a new Straight Arrows record. Since the release of 'It's Happening', bands have been queuing up to have front man Owen Penglis record and produce their music at his home studio – the likes of Royal Headache, Circle Pit, The Frowning Clouds, The Gooch Palms have all used his bathroom. In 2012 Owen was asked to produce and record the who's who of the Australian Garage scene for the 40th Anniversary tribute album to the seminal Nuggets compilation, originally compiled by Lenny Kaye.
Slowly the four honed their reverb-laden, fuzzed out, punk garage into scrappy perfection and in the process gained an outstanding reputation for being ''the band that will make you start your own band." Taking a trip further down memory lane, the Straight Arrows all began with Owen Penglis yelling about getting dumped and kicked out of bands into a four-track cassette machine in his bedroom. He was soon joined by Alex Grigg, Angela Bermuda, and Adam Williams, all friends with colourful musical pasts.
'Rising' is an exciting follow up and sees the band step things up in a huge way but in the warm dirty garage pop way we love them for.
A new dawn is upon us, and it's RISING.
——
Recommended If You Like: Ty Segall, Jay Reatard, People's Temple, White Fence, Black Diamonds, The Thorts
Stream "Make Up Your Mind" right here:

Check out the official video for "Petrified" by Angela Garrick, right here:

STRAIGHT ARROWS – PETRIFIED from Angela Garrick on Vimeo.
————————–
RELEASES:
Rising LP (HZR-157)
Gold edition of 150 : SOLD OUT
1st press black edition of 550 Available HERE

——
Never Enough b/w Can't Stand It 7″ (HZR-109)
Hookup Klub Subscription-ONLY edition of 500 (SOLD OUT)