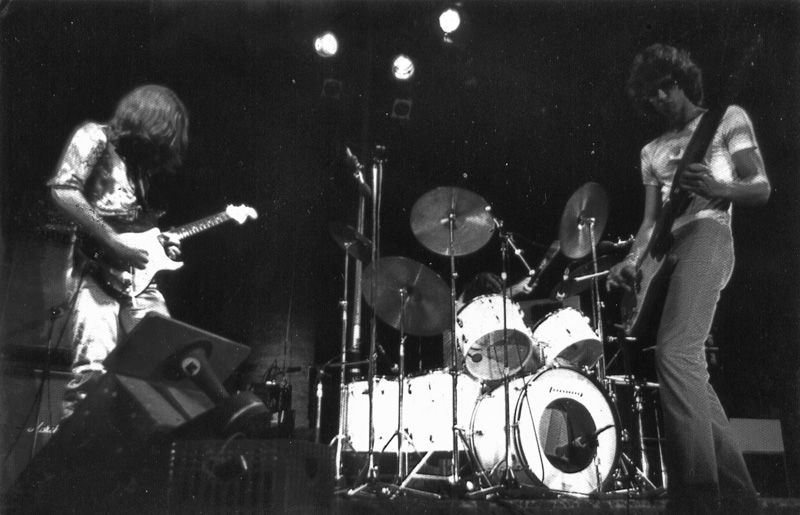 FURY
Here it is folks, the first ever Hozac Archival release, and man is it a whopper. The 40th anniversary first edition of two unissued 1972 cuts by New York proto punk group, FURY, fronted by a young Sonny Vincent, who would later etch out his stain on the wall of punk history in the Testors and an illustrious solo career. These two tracks were recorded and shopped around to record companies in the early 1970s, only to have their dreams quashed due to lack of interest (or having Suicide open up for them, which you can read more about later), and the band, subsequently disillusioned and restless, disbanded without any real document of it's existence.
Sonny quickly started up another band upon FURY's demise, Liquid Diamonds, in 1973, and never looked back (Liquid Diamonds debut 7″ coming soon on Hozac as well!), so it's with such great excitement that we thrust forth this debut FURY single, an explosive fireball of rock'n roll mayhem aimed straight at your groin, the way it was intended, in the perfect, screaming 45 rpm format. Bonehead cruncher? Yer damn right, this criss-crossed between heavy-handed biker rock and thug pungk supreme, dripping with chain grease and burnt skin, a true ball-crushing, tit-ripping rock'n roll gem for the ages, sadly unreleased and completely unknown during it's time. Sonny's signature style is immediate, even at this early of an age, the seething vocals are incredible, sounding much like his better-known later Testors material, yet with such an over-the-top proto punk hammer damaged sound drilling away in the background, you'll feel your life getting better with each consecutive spin.
And since Sonny Vincent is sorely absent from the main NY punk histories and compendiums published in the last 20 years of discovery, we felt that a long-form interview with Sonny was overdue, something that put these earlier bands into perspective against the usual suspects of the era, and concentrating on his experiences in the pre-1976 rock'n roll underworld, of which his involvement in, we knew very little about. If you've been with us for the long haul, you may remember the Testors interview we ran in issue #12 of Horizontal Action Magazine, an epic read in itself, which drummed up interest from John Reis of Swami Records (and Rocket From the Crypt) to get their Testors reissue 2LP package into production back in 2003. We just didn't think to dig back even further, so feast your eyes on the brand new interview, which sheds light on Sonny's early bands on the 1970s, Distance, FURY, Liquid Diamonds and all the well-recollected nuances from the dawn of New York City punk, not the typical CBGBs or Max's stories, but the Coventry, The Circus, and Greenwich Village High School scenes where the seeds of punk as we know it were falling into place, well before the magical year of 1976.
Check out the massive FURY-era interview with Sonny Vincent on Victim of Time
——
LIQUID DIAMONDS
As time passes, the legitimacy of Sonny Vincent's repertoire just grows stronger and more impressive with each new unearthed segment of his seminal years. As you will undoubtedly recall, the issue of the debut 7″ from FURY as the first release in the HoZac Archival series in late 2012 was just the starting point, as here we have uncovered an even lesser-known band during those uncategorizable early/mid 70s years when so many styles of "underground rock" were interweaving. Sonny's incredible recollection of these early years in his career are mind blowing, and the fact that he's been able to hold onto so many scraps of completely unknown and sorely unexposed NYC punk history in the luggage trunks he's moved back & forth across the Atlantic several times since the 1970s, is even more staggering. If you remember from the FURY release, Sonny Vincent's first band in NYC was 'Distance' in 1971, the band that played shows with Suicide's earliest incarnation, and during the era when that band coined the term "punk" in relation to a style of music for the first time anywhere, just ask Johan Kugelberg. So as were the ways of those times, Vincent formed band after band trying to find something that worked, and repeatedly took stabs at recording and performing live in the pre-CBGB/Ramones era, but sadly it seemed, no one was listening.
Flash forward to 1973 and Sonny's latest active band on the town is known as LIQUID DIAMONDS, an even rawer 3-piece than FURY, this band wasn't as active live but still laid the sickening foundation for what nastiness lay ahead in the primitive TESTORS, undoubtedly already forming in the back of his mind. What we have here waiting for your salivating ears, are the two only-known tracks from the LIQUID DIAMONDS era, a scalding version of the later TESTORS classic "Aw Maw," a full three years before that version, backed with the "Gimme Danger" -tinged "Long Ago," a heavy, low-key jam, sizzling with the burned out ambience of the era just before punk had fully formed. Never before released on ANY FORMAT, these tracks will quickly slip into place alongside pre-punk icons of the era, so while the stream of books & scholars focusing on underground music from this era continuously leave out these missing links of NYC punk history, we offer up another 7″ slice of NYC proto punk heaven for you here, so don't even try to relax, crank this up and feel the shell-shock take hold! -VictimofTime.com
———-
DIAMOND DISTANCE & LIQUID FURY LP 1969-76
Well, I guess it's taken seven long years since we made that statement, but luckily, here we are with a full LP's worth of those recordings we'd wondered about, providing a pivotal glimpse into one of NYC's most shadowy figures of the underground. It's almost incredulous that his rock'n roll lineage goes back this far, with his first recording made while home on leave from the Vietnam War, and yet he was still a part of the first wave of 70s Punk. If you remember the FURY 7" we released, along with THIS massive interview, it was apparent that there was more to dig up, and luckily our engineer was able to shine up these riveting primitive proto-punk monsters into reality. Distance were in a primordial heavy psych state on their earliest recording here from 1969, but the VOICE that you know so well is already in place, and cuts through the foggy throb like a knife's edge. Distance was Sonny's first active band, and were known to have opened for The Dogs & Suicide in 1973, as per the two incredible handmade flyers included on the back cover, and as the liner notes can attest, provided a real-life slice of shock-rock insanity.
On this archival LP, you're treated to three previously unreleased Distance studio tracks from 1969-71, along with a 1972 radio advertisement for a FURY show at Greenwich High School, as well as both FURY tracks from HZR-125 remastered, plus the alternate version of "Flying." Possibly the best intersection of The Stooges, Budgie, and Black Sabbath we've ever heard. The second side kicks off with three Liquid Diamonds tracks, both 1973 tracks from HZR-155 remastered here, as well as a sizzling previously unreleased studio demo from 1974, right when the band was starting to lean into Testors territory. Speaking of which, the latest recording on the LP is from one of the earliest Testors recording session, a 1976 studio gem called "Scary" which appears here for the first time anywhere, and provides the bridge from the later Liquid Diamonds sound, into the grittier Testors tonality.
The interview liner notes, are nothing short of a revelation as well. From the bass player in Distance serving life in prison for killing the guitarist in his next band, to Sonny almost ditching out on returning to the USMC and joining the Manson girls on their bus. And from sharing a hotel room with Sterling Morrison on tour with Maureen Tucker, to hanging out with David Peel and Ed Sanders of The Fugs, Sonny has such an insane backstory and this LP should hopefully shed some much needed light on his early years in the New York City trenches.
Sonny is still oddly removed from most NYC Punk history books & the general dialogue, so this release should fill in the gaps and solidify his place in time, with his cache of heavy hard rock stunners, and proto-punk freakouts included herein these sickening grooves. We can only hope he decides to write a book of his own someday, but until then, this thunder-soaked sonic savagery will have to suffice.
———-
Recommended If You Like:
Third World War, Soggy, Black Sabbath, MC5, Motorhead, Pink Fairies, Stooges, Edgar Broughton Band, UFO, Testors, David Peel, Budgie, The Dogs, Blue Cheer, Love

Stream a 1972 Radio Spot for a FURY show at Greenwich Village High School!


Stream the FURY A-side here:

>>Check out Sonny Vincent on Facebook
————————–
RELEASES:
'Flying' b/w '100% Proof' 7″ (HZR-125)
1st press Black edition of 600 (SOLD OUT)
2nd press Red edition of 200 (SOLD OUT)
3rd press Black edition of 200 with Blue label (SOLD OUT)
————

Diamond Distance & Liquid FURY 1969-76 Archival LP (HZR-212)
1st press Black edition of 500 :