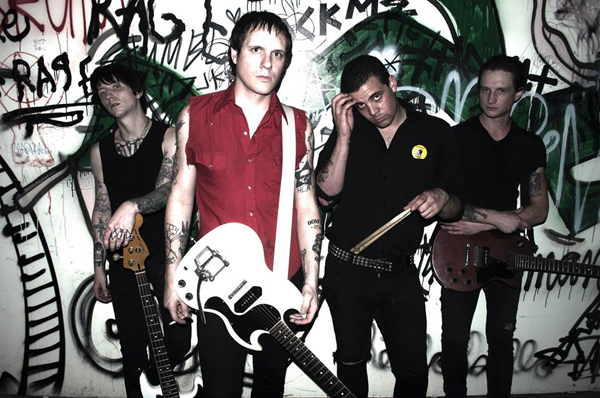 Just when the world thought it was safe from the clutches of the primal punk sneer of the Carbonas, Shocked Minds have exploded up from the underground as the brand new Josh Martin-fronted (also in Ex-Humans, Neo-Cons, Beat Beat Beat) vehicle with hooks that kill as well as they drill. And with original lineup Carbonas members Dave Rahn (also in Gentleman Jesse & His Men) and Jeremy Thompson (also in GAMES) rounding out the ranks, it's dead set to stick in your brain like a parasite, just the way you'd expect from these long-admired Atlanta punk figureheads. But don't let that get you distracted, Shocked Minds steer their cantankerous and razored residual noise into concise blasts of exactly what you want, glazed over with refreshing nuances of the Dead Boys, Testors, and Heartbreakers, and with closer listens, shards of the 70s Belgian punk creme de la creme like Mad Virgins, Revenge 88, and Raxola. Songs executed so painfully tight and impeccably produced by Mr. Rahn for pinpoint perfection, you might not even notice that obscure cover by The Eat hiding in there, and it's gonna hit you like a ton of bricks.
Track after track, it'll become apparent that this is a knockout of a raw punk debut LP that you'll hate your life without, and with the rabidly jagged harmonies littered over each classic cut like broken glass, it's best to not get to close or you'll surely GET CUT.
Shocked Minds-face to face video from Jon Atcheson on Vimeo.
——
Recommended If You Like:
Carbonas, Beat Beat Beat, Exploding Hearts, Busy Signals, GG King, Dead Boys, Mad Virgins

Check them out on Facebook
————————–
RELEASES:
s/t debut LP/CD (HZR-136)
Gold edition of 199 ships first, then 1st black edition of 550
Available HERE:
——