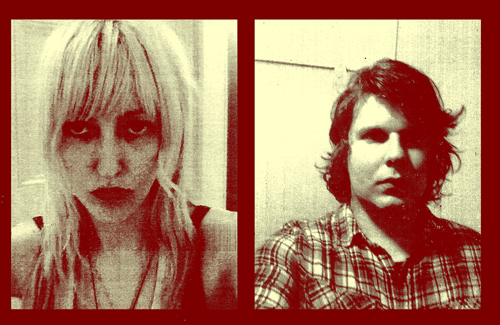 Ruined Fortune is the freedom rock project of Nic Warnock (Sydney, Australia) and Angie Garrick (global citizen). Although their debut full-length retains some of the heavy-glitter/garbage punk moves displayed on their Bulls Eye 7" (R.I.P. Society Records, 2012), much of this record is heading down a different path. Hardly the sum of Nic and Angela's other projects (Southern Comfort, Bed Wettin' Bad Boys, Circle Pit, Model Citizen, Straight Arrows, Exotic Dog, Angie) Ruined Fortune is a group with a strong interest in communicating via the medium of rock 'n' roll as well as "other" sonic territories. Crude demos and open-ended concepts for an album were created before the duo headed to Brisbane for two days in a real-deal studio. Cured Pink main-man Andrew McLellan was in the captains chair with Daniel Spencer (Blank Realm) and Joe Alexander (Bedroom Suck Records, Per Purpose etc) sharing the role of hired help behind the drum kit. What really makes this record this record? The bits in between the would-be hits, the tension between Angie's intuitive and Nic's pedantic approach to making music and McLellan's persistence in fuckin' around with everything, ya know "studio-as-instrument" to the max. Repetitive rockers book-end the more disorientating material that nods towards Chrome, Throbbing Gristle and Xpressway Records incorporating cheap casio keyboards/drum machine combos, cassette 4 track, piano and metal percussion. The result is an album that has an agenda similar to Live, Singles, Unreleased era Royal Trux or the first couple of Alternative TV records in its love of rock 'n' roll while simultaneously aiming for something beyond.
——
Recommended If You Like:
Circle Pit, Mudhoney, Bed Wettin' Bad Boys, Southern Comfort, Royal Trux, Throbbing Gristle, Exhaustion
Ruined Fortune LP "trailer" from Angela Garrick on Vimeo.
————————–
RELEASES:
s/t debut LP/CD (HZR-142)
Gold edition of 150 : SOLD OUT
1st press black edition of 600
Available HERE:
——