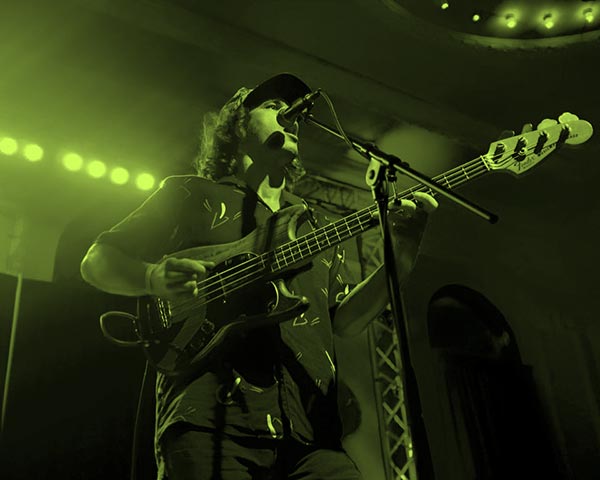 Oh how we've missed The Rubs, let us count the ways! One of the finest of Chicago's last wave of rock'n roll resuscitation of the late 2010s, who uprooted the whole project for greener pastures in Kansas City, MO, yet still continues to churn forth incredible hooks by the bucket-load, no matter where they land. Here we have the anxiously awaited third long-player, Dust – still entirely written, composed, and performed by the one-man-army that is Joey Rubbish, and still creating those invigorating waves of euphoria you've come to know and love from this essential hit-machine. After settling into a new living situation in a new city, the hits just kept pouring out, and as the dust settled after several reconfigurations over the next years, the Dust LP finally took its final, gleaming form, as the LP you have here. Another knockout collection of pristine pop bangers laced with mesmerizing guitar and/or sizzling mellotron solos, woven into impossibly contagious harmonies that should effectively put the CDC on high alert.
And as The Rubs have always had a clear window open on the meat-grinder of influences, with this outing you'll feel whisps of the ethereal late 60s Kinks, as well as Thin Lizzy-esque soft explosions twisting effortlessly around core-revitalizing melodic exercises that might even make the Everlys blush with envy. Dust is one of those eternal records that seems like its always been here, and will always remain, its just always been behind a corner you hadn't looked around yet. The sheer quality of these tracks and seamless execution are a marvel of the modern world's DIY ethos in practice. There don't seem to be many folks making records this brutally simple and honest in these sad, sad times, and its our hope that Dust's hypnotic allure sticks to you as well, as it always has that tendency to do in a world of endless static electricity.
Recommended If You Like: The Beat, Donny Denim, The Jeanies, Kinks, The Toms, Plimsouls, Nick Lowe, Real Kids, The Fevers, Dutchess & Duke, Rockpile, Wreckless Eric
——
Joey Rubbish must be stopped, but it's too late for that. As the architect of every note on this immaculate new LP, he joins the ranks of other groundbreaking modern home-recording luminaries such as Jay Reatard, Mikey Hyde of Medication, and Rich Crook of Lost Sounds/Lover!, all able to cover every instrumental note recorded, as well as the vocals & recording. Not a small feat and worth noting since it's such a rare thing to pull off, especially when it's this nuanced and complex, even by power pop standards. And with that, The Rubs second offering is finally here with Impossible Dream, a full spectrum of songs so tightly-knit, so cleverly-written, and so impossibly dreamy, you won't be able to pull them out of your skull for eternity. Agonizingly articulate pop that can barely contain it's own excitement, these songs just keep hitting you, one after another, each better than the last, just continuously pounding their unwavering contagiousness into your brazen heart.
It's not like The Rubs are reinventing the guitar with Impossible Dream, but this LP has something brilliant humming at it's core, something stark, genuine, and extremely vulnerable. And yet so charming and confident, it's almost dizzying in it's bravado. From the instant "Wrong Right Girl" kicks off, it's a tense and tender tear through the highs and lows of girls, summer, breakups, and tight jeans, drizzled with a reduction of those irresistible vocal hooks. With a run through a series of songs all named after individual heart-breakers (Judy, Amy, Ruby, & Emily), from slow-burners to hyper-charged rockers, there's such a great variety of styles and deliveries you just don't see very often in modern power pop. And let's not forget, the attention to detail, as well as the overall production control, is top-notch, which really adds depth to these incredible songs. Timeless stuff that avoids any & all modern pitfalls, Impossible Dream is a new high watermark in Chicago pop lineage you really need in your life.
——
Recommended If You Like: The Nerves, Donny Denim, The Jeanies, The Toms, Plimsouls, Nick Lowe, Real Kids, The Fevers, Dutchess & Duke, Rockpile, Wreckless Eric
————————–
RELEASES:
Impossible Dream LP (HZR-191)
GOLD edition of 91 : SOLD OUT
1st press black edition of 272 : SOLD OUT
2nd press black edition of 198 : SOLD OUT
3rd press black edition of 219 Available HERE SOON

——