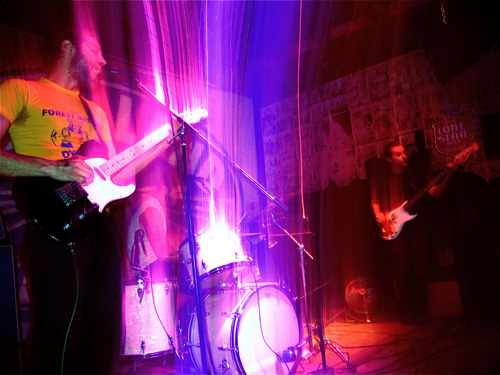 The swirling cloud of deranged noise emanating from the highly radioactive inner core of Rayon Beach has once again reared its head up, bucking wildly and shattering the iridescent thunder of the heavens into shards of wonderfully damaged sound. After the inescapable fallout from their debut Memory Teeth 12″ EP in 2010, they have rightfully emerged with their first proper full-length LP, dragging the trembling scraps of electronic punk slime through a kaleidoscopic garbage can and out into the light, where they can cook properly in the blinding Texas sun. But whereas on their first record the band was still carving out their slithering sound, melting from one mellifluous life form into another over the course of those first six treacherous tracks, here they've found their footing on their first LP, clenching a roughly pristine throb and riding it out into a sizzling pinnacle of modern punk precision.
'This Looks Serious' is the kill shot from Rayon Beach's vast cannon of hits, and after its blast to the dome settles in, you're in for a blurry ride through the bad neighborhoods of your mind, and this is one ride you won't want to end. From the repugnantly reverberating, synth'd-out bass lines to the alien-like vocals draped over the ominously pumping rhythm, like a bloody sheet over an unexplained murder scene, Rayon Beach have planted themselves into their own forbidden garden of nightmarish delights, cultivating a thriving, toxic sound that leaves a hideous film on anything it touches. This LP delivers twelve prime space-junk punk cuts in it's rawest form, a writhing, undulating, twisted ball of melodic/neurotic damage that will putrefy the pundits and cauterize the cognoscenti into blabbering, useless piles of flesh. Don't miss Rayon Beach at this year's Hozac Blackout Festival!
——
what people have had to say about rayon beach:
"It takes a lot of guts to pull the plug on a successful musical formula and dive headlong into the unknown. I'm not advocating anyone cut Rayon Beach open to find out exactly what I'm talking about — then again, can I really stop you? — but their transformation over the last two years has been nothing less than dramatic. Reverb-crutch competitors are playing checkers while this trio is playing chess. Apologies if I just lost those of you who don't understand contact sports analogies." – Gerard Cosloy, Matador Records
—–
"While it's much too soon to equate the current Austin garage scene with what went down in the late '60s via the psychedelic reverberations of the Elevators, Red Krayola and Golden Dawn, the output that has proliferated from bands like Woven Bones and those found on Matador's Casual Victim Pile primer is much too incendiary to ignore as a fluke. It really must be the heat. Can you ever remember seeing a clip of the early Butthole Surfers live and not want to get them all a glass of ice water? Rayon Beach, Austin's latest cretin darlings sound as if they've been baking on red rock for days. Even the production quality becomes warped, as if the tape is melting in the reels while they waver off their spindles.
The title track is everything you'd expect from a band freebasing "You're Gonna Miss Me" (minus the electric jug). Instead, night tremors and endless delay take the place of that acid paranoia. I'd like to imagine that a lot of these kids playing this version of haunted psych were directly influenced by the constant bummer of Jim Shepard's V-3 magna-grind, as "Wave Pool Ether" would have fit nicely on a Photograph Burns tribute somewhere. For the better part of this short player, though, Rayon Beach are channeling a large chunk of psychedelic wonders and exploiting them for the heat that was never released, which is prone to making each tune slightly unbalanced. "Comet Songs" is just a step or two behind a Flowers-era Stones mod-romp, while "Paradise Is Frail" is a reminder that the Cheater Slicks plundered this stuff already, if only for a new generation to find. The awesomely titled "Jacuzzi Limo Explosion" ends the record with an instrumental, frying a church organ in suntan lotion and riding the snake into the desert. And while there are noticeable melodies strewn throughout, if you really want the truth, this one's strictly for the heads, but definitely a band to watch out for in the near future." – Kevin J. Elliott / Agit Reader
—–
"Following up a great HoZac EP with an even more ferocious single on the ever consistent Plastic Spoon Records, Rayon Beach bring more of their psych-addled garage to this single. It takes a certain amount of panache to really meld psych and garage without sounding overly hippy and Rayon Beach seem to balance the buzz saw crunch and rumble with just the right amount of space scraping effects. If the first 12″ felt like a primer, then these three songs sounds like the band really starting to hit their stride and they've certainly peaked my interest to see what the band brings next." – Andy French / Raven Sings The Blues
—–
Recommended If You Like:
Soft Boys, Deviants, The Spits, Shapes Have Fangs, Spacemen 3, SPIDER, Swell Maps, V-3, early Pink Floyd

>> Listen HERE
Check them out on Facebook
Video clip of Rayon Beach performing "Jacuzzi Limo Explosion"

—
RELEASES:
This Looks Serious debut LP/CD (HZR-113)
1st press Black edition of 550 Available HERE:

GOLD edition of 168 : SOLD OUT
—–
'Airplane With Tits' b/w 'The Libertine and the Happy Slave' 7″ (HZR-070)
Hookup Klub Round 2 – Black edition of 500: SOLD OUT

—–
The Memory Teeth debut 6-track 12″ EP (HZR-052)
1st press Black edition of 550 (SOLD OUT)
2nd press Black edition of 550
Available HERE: