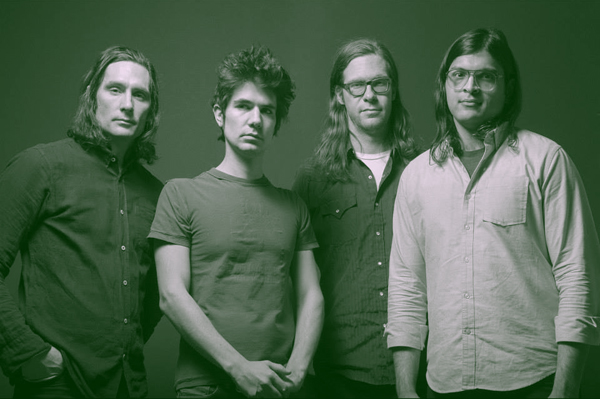 We've been waiting for this moment from Radar Eyes for years. This debut album is more of a pinnacle of modern noise pop than just another invigorating album to get warmed up to on a cold morning. Soaring guitars and heavenly vocal interplay, all screaming along with such interstellar melody and power, you'd think they were on the brink of signing to Creation Records. They have been quietly building an explosive array of hits for the past few years, and now their incredible shine has become unavoidable as they crush together spacey noise with pop hooks so devastating, we just had to ask them to put out their debut album. Here, finally on the LP format they're best suited for, they've aligned their angelic guitar transcendency to come to full fruition, heralding a fresh new layer of palpitating excitement to their timeless sound they've honed to such a fine point. This is a band that understands how to control themselves under all the constraints, firing off powerfully direct, gigantic synthesized pop anthems that twist and turn with the best of their influences and lock themselves deep inside your head.
Radar Eyes encompass a sound that's familiar, yet revealing, driving neurotic, icy 12-string guitar lines over heavenly blocks of perfectly contained noise and rhythm, bound by a untamed spirit that hovers on the brink of explosion, creating an irresistible tension all but lost in most modern music. As with any band exemplifying great songwriting range, these tracks run effortlessly from surging walls of heavenly guitar noise a la Primal Scream, Warm Jets-era Brian Eno, or The Ponys, into their own style of entrancingly idyllic synth-driven pop that will truly set them apart from their contemporaries. And if the album's final cut says anything about where they'll go from here, everyone with functioning eardrums has a lot to look forward to from Radar Eyes, truly one of Chicago's best assemblages of mesmerizing and cohesively unwavering pop brilliance.
—–
"totally exceeds expectations, with epic sized guitar hooks that will sweep you up in their gritty, glowing goodness. The guitars sound tightly woven and concentrated as they plow on through with their sharp complexion, rolling straight on through jangly swirls until the song reaches its fiery culminating point right around the two minute mark. Once that happens you will have a hard time ignoring the explosive ambiance that engulfs just about everything, leaving you in a hazy daze as you quickly make a dash for the repeat button." -STYROFOAM DRONE
"their shimmering indie pop sounds last year reminiscent of some of the finest fuzz-pop from the 90's with soaring guitars, swirling keyboards, and shiny hooks" -CHROMEWAVES RADIO
"The jangly guitar intro of Miracle makes me wonder if Chicago has some kind of Paisley Underground. Probably not, paisleys don't grow in the frozen tundra, or maybe they do. They're kind of like magic mushrooms, you just have to know where to look. Look no further than Miracle, it's euphoria inducing." -THE FINEST KISS
"Just the right amount of upbeat chords to compliment some fuzzed out rowdiness." -HEARD INSTINCT
"Proudly poppy, borrowing elements from The Jam, Squeeze and The Clash as much as from Spacemen 3 or Sebadoh, Hozac Records' quick snap-up of Radar Eyes is testament to the breadth of their evident inclination towards astoundingly good hooks." -SQUEALER
"Twenty years ago we would've called this some of the purest power pop made in the Windy City. Now we realize all the influence that could've been ingested in that time. I hear chords cultivated in the Pixies frenetic sci-fi marble, echoes of hours under the watchful eye of Joey Ramone's Rock & Roll High School curriculum, and even a little of the Smoking Popes' (obscure, but warranted) chugging pub-punk romanticism. "Not You Again," the B-side, is the real gem of this one. Though it's closer to the indie heart, it coasts on a mid-tempo nostalgic dourness, haggling with New Order outtakes and soundtracking the sunset scene of some imagined John Hughes film. The band is from Illinois after all, and that vibe of (Rock*A*) teens rallied round the campfire is ever present. That is until the finale here, where one too many shots make lead singer Natron's bark curdle into a pied-piper march off to the party barn for another bender. Inspired stuff." -AGIT READER
"Of HoZac's 70-odd releases, this year's singles club might be the most consistently awesome string of records that they have released. Take this Radar Eyes single, a band I'd never heard of before, but does everything you want with the first introduction of a new band. Radar Eyes provides a variety of sounds – "Shakes" somehow pulling off "dreamy" and "anthemic", while "Not You Again" goes for the slow-burn, kind of a laid-back Stoned and Dethroned-era JAMC. Obsession-worthy, and well worth the effort to get a copy." -SINGLEFILED
"there's a bit of a Ponys vibe going on here. It's in the Chicago garage rock vein exemplified by the aforementioned band, especially on the a-side "Shakes". "Not You Again" has an 80s British vibe to it and I like it." REGLAR WIGLAR

Recommended If You Like:
Echo & The Bunnymen, The Church, Spacemen 3, Brian Eno, Primal Scream, The Ponys, Meat Whiplash, RIDE, Bubblegum Lemonade, MYELIN SHEATHS, Hot Machines, The Pixies, Snapper


>>LISTEN HERE
>>Check them out on Facebook
Video premiere on LOUD AND QUIET (UK) Directed by Canderson & Tiger Lily

Radar Eyes "Summer Chills" from Chris Anderson on Vimeo.
check out Radar Eyes' Coach House Sounds session right here:

Radar Eyes – 5.23.10 from Coach House Sounds on Vimeo.
"Side of The Road" video by benji-mo

————————–
RELEASES:
'Positive Feedback' b/w 'Morning Glory' 7″ (HZR-143)
GOLD edition are 1-of-a-kind hand silk-screened sleeves, (SOLD OUT)
1st press Black edition of 375 Available HERE

——-
s/t debut LP/CD (HZR-097) Out 2/7/12
GOLD edition of 200 (SOLD OUT)
1st press Black edition of 550 (SOLD OUT)
2nd press Black edition of 200 Available HERE
——-
'Miracle' b/w 'Me And My Dogs' 7″ (HZR-096)
1st press Black edition of 500 ORDER HERE

——-
'Miracle' b/w 'Me And My Dogs' 7″ (HZR-096)
GOLD edition of 200 (SOLD OUT)


——-
'Shakes' b/w 'Not You Again' debut 7″ (HZR-062)
Hookup Klub Record 12
Black edition of 500 (subscription ONLY, SOLD OUT)