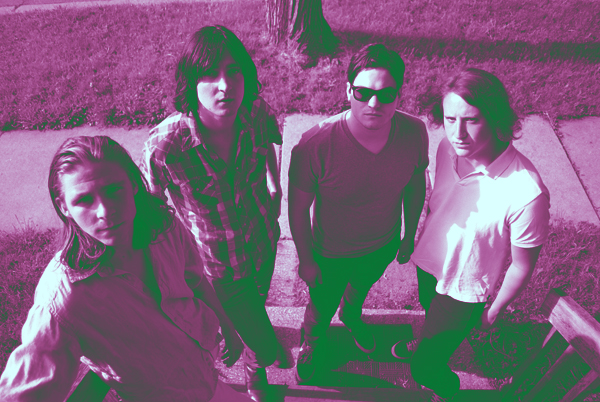 So at this point, the Lansing, MI band, People's Temple, are pretty much an institution here at HoZac, and their anxiously awaited third LP is finally here and ready for you to sink your teeth into. Not necessarily an album formed in pre-conceived theme, akin to their debut, and More For the Masses, but similar to how the Rolling Stones' Between The Buttons or The Seeds' Fallin' Off The Edge albums represented a collective of songs put together with vastly different styles, due to the sheer abundance of material, yet an impressively cohesive arrangement of their always expanding strains of rock'n roll. With Musical Garden, the band shows no signs of slowing down in their increasingly dynamic range of songwriting, bridging across various sonic experiments with textures through their effortlessly effective delivery, and their increasingly apparent studio prowess, which shines even brighter on this explosive new full length.
Both sets of brothers in People's Temple are integrally active in the songwriting process, and there are more than a few curve balls in this new album. The game-changing "Male Secretary," almost unrecognizable compared to the bulk to the PT output, throbs forward as a sizzling slab of gnarly, progressively fuzzed-out glam rock, meticulously built around an atypical song structure that deftly challenges the boundaries of their contemporaries. And with the recent 21 year-old status reached by the band's youngest member George, they quickly proved that they didn't even have to play the "teenage band" card over the past few years to garner any attention they rightful deserved in the first place. After your initial listen to Musical Garden, it will be painfully apparent that this band has nowhere to go but up, and this unflinching and bombastic third LP is their inevitable next step in solidifying their status as one of the Midwest's brightest examples of exciting underground rock'n roll. – VictimofTime.com
——
The Peoples Temple have righteously returned with a sliver of their next wave, and with the anxiously awaited follow-up to their debut LP 'Sons of Stone,' we have a band on our hands here with their heads clearly going in the right direction. The Lansing, Michigan snarlers have constructed their sophomore LP, 'More For The Masses,' with a taste of what they've been working on since their last outing, and it's got us seething with excitement to share it with the world. The new songs show a bold advance in the songwriting structure, with intricate arrangements, incredibly diverse new directions not far off from the pioneering material spurned forth from the iconic 60s band Love. We're talking flashes of primitive baroque pop and British 'Fading Yellow'-style songs, albeit not absent of their illustrious fuzz guitar flourishes we've all come to love and expect, laid on thick. 'More For The Masses' is a perfect example of what Peoples Temple do best, a direct shot to the dome of perfect rock'n roll snarl, classic pop, head-expanding fuzz, those two-part vocal harmonies, and an ever-compelling riff that takes you over the edge and back within minutes. Peoples Temple have built on their unusual knack for crafting original pop music sounding like it's been stripped out of the ashes of time, only to emerge with some of the most creatively exciting sounds coming out of the Midwest in years.
A band built on the rare structure of TWO sets of songwriting brothers is groundbreaking enough in it's own right (can you think of any other band made up of two sets of brothers that all compose?), but their ability to crank out awe-inspiring classic songs at such a rapid clip is making our heads spin over here, and we can't wait to unleash 'More For The Masses' on an unsuspecting public, destined to break the mold apart even further, and expose the raw guts of this unstoppable rollin' machine. -Victimoftime.com
Pitchfork review of 'Sons of Stone' LP HERE

Video for "AxeMan" directed by Michael Lucas, as seen on Pitchfork.tv

Check out an intimate acoustic performance of "Jim Jones" right here:

Recommended If You Like:
13th Floor Elevators, Love, Index, White Fence, Golden Dawn, Zachary Thaks, Troggs, Black Diamonds, Ty Segall, Smith Westerns, Brian Jonestown Massacre

>>LISTEN
Check them out on Facebook
————————–
RELEASES:
Musical Garden LP/CD/digital (HZR-146)
1st press black edition of 550 : SOLD OUT

GOLD edition of 199 (SOLD OUT)
——
More For The Masses LP/CD/digital (HZR-122)
1st press black edition of 550 (SOLD OUT)
2nd press black edition of 350 Available HERE:

GOLD edition of 199 (SOLD OUT)
——
Looters Game b/w Highs and Lows 7″ single (HZR-121)
1sr press Black edition of 475 : SOLD OUT

——
GOLD edition of 199 : SOLD OUT


——
Sons of Stone debut LP/CD/digital (HZR-085)
1st Black edition of 550 : SOLD OUT
2nd Black edition of 350 : SOLD OUT
GOLD edition of 200 : SOLD OUT
——
Make You Understand 7″ EP (HZR-056)
1st press Black edition of 500 : SOLD OUT
Red edition of 250 Available HERE:

Make You Understand
Machine
Jim Jones (3 NON-LP tracks)
——
Make You Understand 7″ EP (HZR-056)
Gold Edition of 200 : SOLD OUT