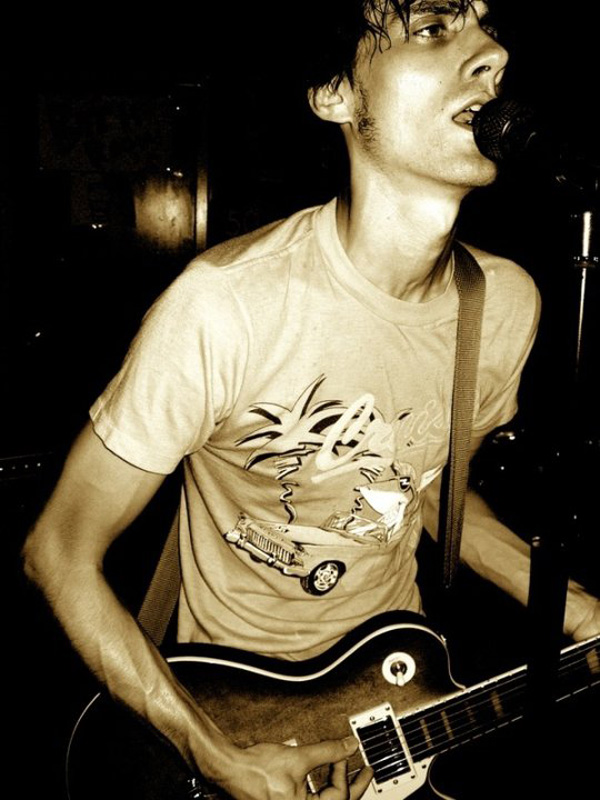 Such a Nice Face, what's with the cold shoulder? The second coming from this habitually antagonizing solo recording outfit, originally part of Brooklyn's shrouded colony of home-recording pioneers of the new century, is here at last, and it's hard to cover up the fact that we're boiling over with synth/guitar ecstasy. Where their contemporaries have faded into dull, lifeless reinventions of their initial, rogue directions, Nice Face has risen to the top of the heap, continually cranking darkness, tension, and animosity into invigorating bursts of seething electronic punk that's impossible to shake. From the shreds of sickening pop abrasion as evidenced in their first singles, to their mind-blowing Immer Etwas debut LP on Sacred Bones, Nice Face is a force not easily contained, as you'll soon find yourself revisiting each track's endlessly hypnagogic grooves.
'Horizon Fires' is the anxiously awaited new Nice Face LP, and with some significant time between their last release, main figurehead Ian Magee has moved from the NYC area and out into his own field of crafting air-tight, simmering noise pop blasts which continue to daze and amaze those daring enough to keep their punk dark, damp, and infectious. These are the perfect conditions for this high-quality grade of aural bacteria to reproduce most effectively, so it's no wonder that Nice Face have forged the template for synth-punk generations to come with their new LP, sucking in and chewing up shards of the darkest and greatest influences, regurgitating it all into such an earthshaking album of ill will, ugly undulations, hideous hooks, and reprehensible rhythm. – Victimoftime.com
——–
what people have had to say about NICE FACE:
"The one-man bedroom antics of Ian Magee could have easily seeped into obscurity after a handful of singles that seemed to get lost in the shuffle with the (to use a term a colleague coined) blankdoggin' hobos like Gary War, Pink Noise, Dead Luke, and a dozen or so more. Normally, it would take a lot to give attention to Magee for the length of an album; his forte seems to be quick hits of synth-punk dementia, usually submerged and distorted into a paranoia blitz that couldn't possibly be tolerated 12 more times. The contrary seems true on Immer Etwas. It's fitting that the title translates to "always something" because the record constantly slinks, stabs and shifts going for the throat like an all-night party that continually devolves, though you never want it to end. "A Gaping Gash" alone sounds like Gary Numan after a long bender with dollar-store inhalants.
By employing a third-world super-group of sorts, with members of Livefastdie and Imaginary Icons, Magee's new Nice Face still manages to honor the wrist-slash of the perfunctory solo-version of Nice Face on "Selectron," convulsing on drum machines and flammable guitars, and vocals underwater. But for the bulk of Immer Etwas, the band barrels through big menacing, almost possessed rock songs. "Hard Times" grows and grows, yet is smeared with black tar. "Blood in the Well" is zombie blues sans the oxygen in the room, and "Beater" is a one-minute pummeling that will allow you to set aside those Nobunny and Hunx platters. It's almost as if Magee is laughing underneath it all, mocking his peers left and right, making something both devastating and beautiful in the process. The mood is just as much fantastical as it is chromatic punk, a balance that's hard to accomplish. "Garbage Head" sticks to the synth-minimalist ethos of Devo and the Units, maybe the Screamers, but the song also seems to search for OMD and the Human League, a hankering for electro-pop excursion that clashes with atonal riffs and grotesque visions. Coming out of the insular, sci-fi closet that may have thwarted Nice Face's evolution, Immer Etwas quickly launches Magee into a space that is equal to—if not completely eclipsing—his contemporaries." -Kevin J. Elliott / Agit Reader
——-
"Released by Sacred Bones only last year, the one-man bedroom-band NICE FACE created this dreadful and increasingly abrasive LP. Sadly it's too late now, but this collection of songs easily would have cracked our "top" lists of 2010 with a commendable position.
If you ever had the pleasure of digging into the Sacred Bones catalog and finding this one on your own, then you stumbled upon quite the treasure. This monstrosity of a record is riddled with all sorts of dire and threatening sounds, whether it comes from the blood thickening palm muted guitar of "Situation is Facing Utter Annihilation" or the mangled screeching of "I Want Your Damage", which combined are enough to produce a splitting headache. Of the thirteen tracks included on the LP (and the nineteen on the CD version), it is actually a task to find one that doesn't fit. The hook-heavy and repetitious songs sound as if they could blow out your speakers at any given moment due to the harsh levels of metallic grit and driving sonic fury, but you should be warned that once these hooks sink in they're not coming back out. These thirteen tracks are essentially punk fueled tantrums when you cut through all the scuzzy filth no matter how disturbing and twisted things tend to get (like the unsettling manic textures of "Garbage Head" or the intoxicating vocal hook of "A Minor Altercation").
Ian McGee, the sole individual behind the recordings, seems to channel every last bit of his aggressive and inventive energy into this bedroom project, where words like "rage" come off as a blatant understatement. A surely accurate description to encapsulate this anomaly can be found on the Sacred Bones page, claiming that the record "locks Blank Dogs in the pound, erases 'Psychedelic' from Psychedelic Horseshit, makes purses and boots out of Crocodiles, and, oh I don't know…makes a puddle out of Wavves?" Sure that might come off a little cheesy, but it is stunningly accurate to say the least. As you let this album play out, you should have no trouble accepting that statement. Below we've picked out some of the most crushing standouts, but there's plenty more where these came from so don't sleep on this one any longer or you will be sorry." -Styrofoam Drone
——-
Very few artists in the last few years have left us as impatient for more as Nice Face. Following the LP Immer Etwas, one of our best of 2010, the band has built up a new album for HoZac full of flesh eating fuzz and cracked rib drums, though the first single out of the box is the slow burn haze of "Shaman". Check out the video above which follows the grainy incantations of a forest sorceress and check back shortly for more a full review of the band's excellent Horizon Fires. – Andy French / Raven Sings The Blues
Recommended If You Like:
Cabaret Voltaire, Nervous Gender, DEVO, Black Bug, Catatonic Youth, The Spits, Gary War, Pink Noise, Tubeway Army, Blank Dogs
Check them out on Facebook HERE
Official video for "Shaman" Directed by Kenny Curwood off The Horizon Fires LP/CD right here:

Official video for "Equipped" off the newHorizon Fires LP/CD, by Director/Animator, Robert Wallace

Nice Face – Equipped from Robert Wallace on Vimeo.
————————–
RELEASES:
Horizon Fires LP/CD (HZR-112)
1st press Black edition of 550 Available HERE:

GOLD edition of 190 (SOLD OUT)
——
'Exterminator' b/w 'FUBAR Over You' 7″ (HZR-026)
1st press Black edition of 700: SOLD OUT
RED edition of 200 Available HERE:
——
'Exterminator' b/w 'FUBAR Over You' 7″ (HZR-026)
Gold Edition of 200 SOLD OUT: