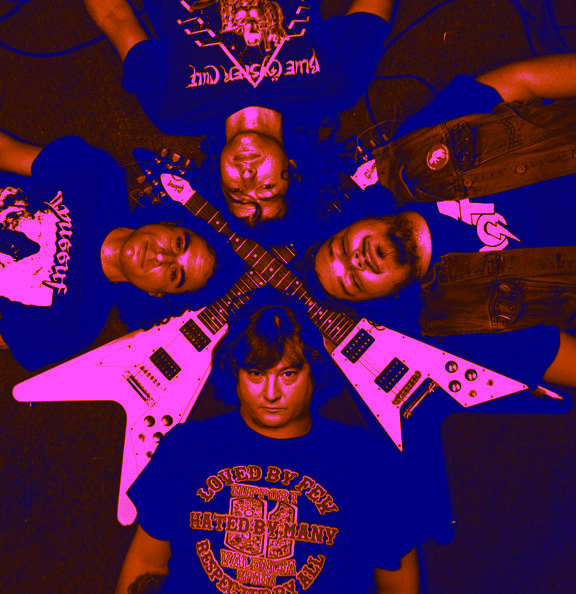 In case you weren't aware, Missing Monuments are the current King Louie vehicle for his sharp pop confections that didn't quite fit in with his numerous other projects, a pure dose of 3-chord razor-pop heaven from the Exploding Hearts' key songwriter and Southern punk icon that delivers exactly what we all need. Proving that he's as universal as the sun, moon and stars, Louie's unpolished pop side is always overshadowed by his raw punk reputation, but as of the last couple years, it's this sound that's becoming his signature, as it's really always been at the root of his genius. Now that the Missing Monuments have had a chance to tour and gain their foothold amongst their brethren, it's become even more evident that the prowess in which they craft these modern day classics isn't reaching any end in the near future.
This exhilarating three-track 7″ EP shows exactly how tenacious and impressive they've become, and as you'll soon find out, the incredibly tight-knit pop contained within these grooves will rip your heart right out of your chest and tear it to pieces before you even know how much you've just fell in love. One of the South's true pop masters has done it again, and we're beyond stoked to release a record by one of our oldest friends and impresarios as he Loves us all Back To Life.
– Victimoftime.com
Recommended If You Like:
Exploding Hearts, Persuaders, Alex Chilton, Dogmatics, Paul Collins Beat, Fevers, Raspberries


>>LISTEN HERE
>>Check them out on Facebook
Missing Monuments 'Another Girl' Official video
Missing Monuments '(I'm Gonna) Love You Back To Life'
Missing Monuments – "(I'm Gonna) Love You Back To Life" from Painless Surgery on Vimeo.
————————–
RELEASES:
'(I'm Gonna) Love You Back To Life' 7″ EP (HZR-120)
1st press Black edition of 475 : SOLD OUT
——
'(I'm Gonna) Love You Back To Life' 7″ EP (HZR-120)
Gold Edition of 199 : SOLD OUT