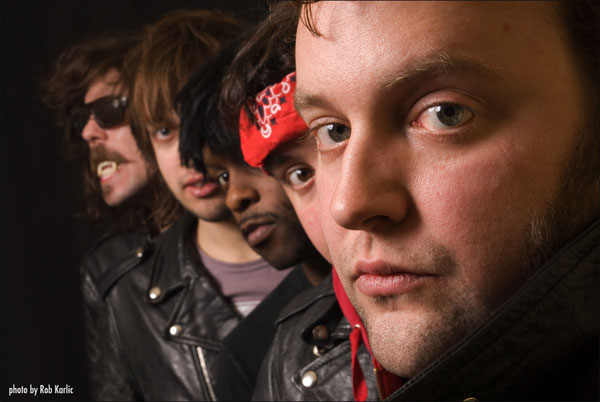 As long as there's still hips to shake and asses to move, Mickey will be there to rub it in deep and smother your world with their ineffable concoction of punk brilliance. The most promising new Chicago pop band since the Smith Westerns, these five individual odd fellows have unearthed the primal lunacy and indescribable glam irresistibility that has turned anyone who's seen them into blathering idiots, ready to swallow every stray flung drop of slimy sweat dripping from their guitar necks. After last year's impeccable debut 7″ on HoZac and their devastating trip through the wilderness of South by Southwest's seedy underbelly, they turned enough heads and converted so many people, that I finally felt like it wasn't just us that was crazy for their inebriated, yet exhilaratingly unique undulating glitter-pop formula.
Just like when GG Allin covered The Ohio Express' "Up Against The Wall" during his early pop fascination period, it's the truly unorthodox filtration of influences that generates unbelievable results like these, and Mickey does it all with the trashy finesse of a sanitation worker at an art gallery. Crushing boring predictability and shoving raw sewage into a powerful pop-art format that sends chills down the spine and makes it fun for the whole family.
This week, FDH Records unleashes the Mickey 12″ EP, featuring six serrated songs that will etch their name even deeper into your brain, causing eyeballs to pop and eardrums to throb simultaneously for the duration of each side, with already-classic tracks from their live set such as the rollicking "Space Case" and the very well possibly FU2-inspired "Electric Dreams," both of which have sent many a crowd into a mouth-foaming frenzy on many an occasion. Bands like Mickey seem to only happen when the planets of the universe align a certain way, but as their songs and overall persona continue to build to massively impressive levels, there's really no telling how far they can go, but we can only stand back and watch in awe as they level everything in their path.
Oh yes, the Mickey album is finally here, and it's one of those records that will hit you unexpectedly. This sparklingly devilish debut LP comes off so ferociously powerful and snotty, yet recorded and delivered with a finesse and attitude so overwhelming, it might just become your new obsession. Deranged glam pop that hearkens back to the daze of corrupted youth, running from the law, outwitting your parents, and the endless thrills that come with breaking away into where the night takes you. It's got the desperation and the dereliction to conjure these impulses so well, you might even feel like running away from home, just for that irreplaceable rush, years after you've already left. Guitars this clean shouldn't sound this dirty, and songs this juvenile should never be this immediate. That's just what might be the most intriguing facet of this debut LP, a triumphant return to the nastiness of unhinged rock'n roll that spans the ages. Conjuring 50s/70s doo-wop/glitter catchiness with pop/metal hooks that just were never supposed to be, yet here they are, running down your legs in all their soiled glory, as the songs come bleeding out of the speakers while you scream down the highway.
And "lo-fi" witch-hunters beware, as this LP is recorded with crystal-clarity for maximum HARD ROCK fidelity, making Mickey's Rock'n Roll Dreamer a non-stop ride through the quintessential teenage brain, knocking over everything valuable in its path, and creating a universal swooning that just isn't even attempted in these days of knob-twiddling self-indulgence. It's a familiar, yet refreshingly new frontier of modern punk that pushes the infected juices of pounding glam, miscreant metal, and scum-pop gold all to the forefront of today's teenage news. The incredible songs, the immaculate production, and the savage intensities all come together on this debut like no other, creating one of Chicago's most critical benchmark's of underground rock'n roll for the ages, and here's your first chance to take a ride.
Check out an the video for "Electric Dreams" (courtesy of Canderson & Tiger Lily) right here:

Mickey "Electric Dreams" from Chris Anderson on Vimeo.
FREE MP3: "For You"
Recommended If You Like:
Berlin Brats, Dead Boys, Rose Tattoo, Iron Virgin, GG Allin & the Jabbers, FU 2, Bay City Rollers, Rittenhouse Square

>>LISTEN HERE
Check them out on Facebook
————————–
RELEASES:
'Rock'n Roll Dreamer' debut LP/CD (HZR-089)
Available HERE:
——
'She's So Crazy' b/w 'I Am Your Trash' 7″ (HZR-048)
1st press Black edition of 700 (SOLD OUT)

——
'She's So Crazy' b/w 'I Am Your Trash' 7″ (HZR-048)
Gold Edition of 200 (SOLD OUT)