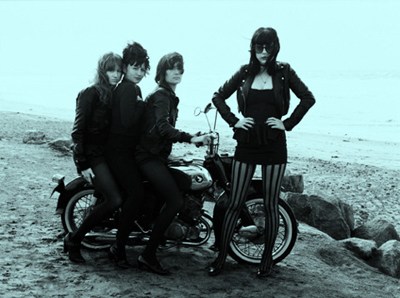 As far as modern girl groups go, Dum Dum Girls are setting the new standard in fuzzed-out pop euphoria ever since we unleashed their first 7″ as part of the HoZac Hookup Klub a year ago, this month. With the astonishing full development from a solo home-recording unit to their first flights as a live band last summer, Dum Dum Girls have truly come full circle. This sparkling and ominous debut album was recorded in New York with producer Richard Gottehrer (member of the Strangeloves, co-author of The Angels' 1963 hit "My Boyfriend's Back", and producer of Blondie and The Go Go's), who truly worked his magic here, keeping the jagged scuzzy pop edge of the band's style tied effortlessly to the Girl Group sound he helped create. Our most lavish release to date, and one we're excited to be a part of, undoubtedly. Second pressing and CD version now available from Sub Pop Records.
>> LISTEN HERE
check out the video for "Bhang Bhang, I'm A Burnout" off the HoZac/Sub Pop debut LP right here:

Dum Dum Girls "Bhang Bhang, I'm a Burnout" from Sub Pop Records on Vimeo.
—
HZR-027 HOOKUP KLUB ROUND ONE 7″ no.1
Debut 3-track 7″ EP (SOLD OUT)
Longhair
Mercury Mary
Let It Be Me (Becaud/Curtis/Delande)

—
HZR-051 I WILL BE Debut LP
1st pressing: Gold edition of 200 / Black edition of 800 (SOLD OUT)