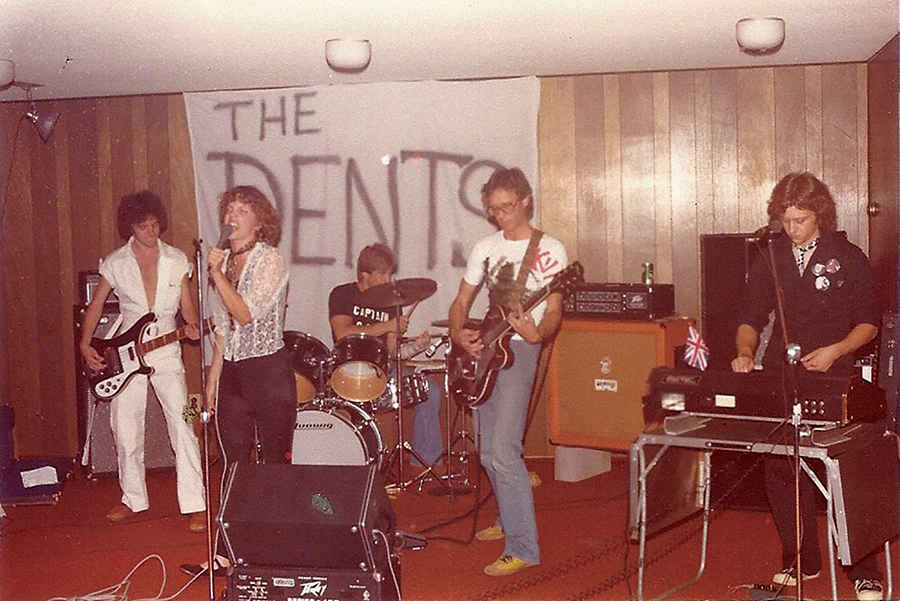 If Cincinnati quintet the Dents had done what so many other early U.S. punk/new wave bands were able to do in their day, wax just one limited-press seven-inch single before they splintered apart, that 45 would now be spoken of in reverent tones and commanding ridiculous sums on Discogs. There are hundreds of deep-pocketed, rabid overseas collectors who gladly fork over numerous euros or yen for exactly such types of dusty and uncomped DIY efforts, just to have something ripping and rare to spin for their knowing buddies before they slip it neatly back into its Xeroxed fold-over sleeve and file it in the "D" box between nuggets by, say, the Deadbeats and the Desperate Bicycles.
And that would be a crime, really. Because music as uniquely cool and rocking as the Dents'doesn't deserve to be hidden away and only enjoyed by some secret circle of mystic vinyl cabalists. The group were early American pioneers of what would retroactively be termed synth punk: a scorching fusion of futuristic synthesizers and grinding, garage-y guitars. Too tough for the synth pop lightweights and too contemporary for the brutes who dared not deviate from the guitars-only Ramones/Pistols template.
In 1988, I started gathering material for the compilation that would ultimately become 2019's We Were Living in Cincinnati on HoZac/Shake It. Keyboardist Doug Hallet made me a tape of some choice cuts, and I loved what I heard: squealing synths, growling vocals, chunky guitars, propulsive bass, and four-on-the-floor drums, the collective machine driving a clutch of great, super-catchy tunes. That tape got lost during the intervening decades, but Doug, vocalist Vivien Rusche (AKA Vivien Pinger), and I connected via Facebook when I resumed work on the comp and they sent some more tracks. The music sounded even better than I'd remembered it. In fact, "Sleeping Around," a defiant, ahead-of-its time (or, perhaps, right-on-time) anthem of female sexual independence, in particular, proved to be a total revelation — an instant-but-overdue classic that had blown-away listeners asking one question, loudly: "When can we hear more Dents?"
The answer: Right now. Right here. This cache of cool originals and sagely selected covers culled from two riotous gigs by the band offers ample evidence that the Dents were truly one of Midwestern American punk's top undocumented acts. If they'd been in, say, San Francisco or L.A. circa '79/'80, instead of, yeah that's right, Cincinnati, Ohio, it's not hard to imagine them being snapped up by some seminal label to cut a solitary single whose sound would be emulated by young bands around the globe 40-plus years later. Once upon a time, geography was a bitch. Not anymore, though. Here ya go, kids.
—Peter Aaron, 2021
Thanks to the efforts of punk historians like Peter Aaron, we're excited to unleash this sadly forgotten Midwest punk album in all its gritty glory. Complete with an extensive set of liner notes and band interview on a 6-panel foldout insert, finally The DENTS are getting their debut album, just shy of 40 years after their breif existence. Midwest Punk just keeps turning out the goods, even decades later, just wait til you hear such future fem-punk classics as "Cheap Perfume" and "Bitter Blood," so hold on tight and get ready to be permanently DENTED by The DENTS!
——
Recommended If You Like: Screamers, Rezillos, Joy Ryder & Avis Davis, Tyranna, Bush Tetras, BEEX
STREAM tracks from the LP here:

————————–
RELEASES:
HZR-218
HoZac Archival #40 (circa 1979-80)
1st press black edition of 500
w/ FREE download
Available HERE

——