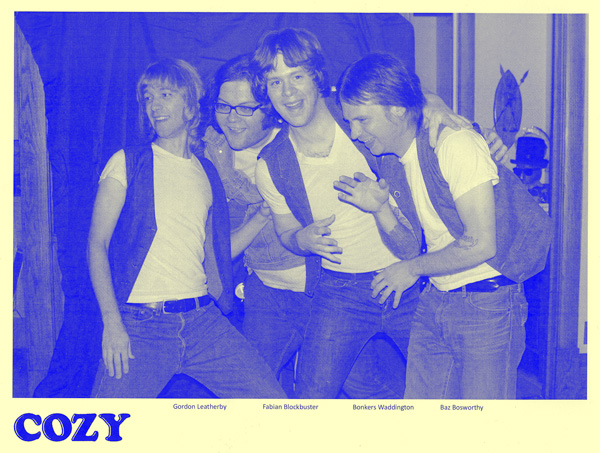 COZY: The very name alone is enough to send legions of teenagers the world over into paroxysms of joy!!!! COZY are four young men who have captured the hearts of fans across the globe with their movie star looks, boyish charm, dapper denim outfits, and a stage show that is truly out of this world!!!! Just ask any of their innumerable female devotees and they will tell you COZY are the hottest band in the land in every possible sense of the word!!!! Every teenager who knows anything about anything knows all of their names and vest sizes by heart, but for those who have been living under a rock for the past two years here is your chance to get acquainted with the fastest rising stars in showbiz today!!! First there is the superlatively talented BONKERS WADDINGTON on vocals!!!! BONKERS is 6'1" and 180 pounds of pure charisma and sex appeal!!! His fanclub alone counts more members than the entire population of the countries of Belarus, Togo, and Albania COMBINED!!!! Second but no less sexy is COZY'S ace guitarist BAZ BOSWORTHY!!!! In addition to being a fearsome fretboard wizard BAZ is the most stylish member of COZY!!!! Tastemakers have been known to keep an avid eye one what BAZ is wearing only to have it eventually show up on runways in London, Paris, and Milan!!!! Next we come to the man who many fans consider the dreamiest member of COZY: GORDIE LEATHERBY!!! GORDIE is a true rocker who puts his heart and soul into playing the bass!!! His top priority is making sure every fan who buys a ticket to a COZY concert gets their money's worth!!!! Last but by no means least COZY's not so secret weapon FABIAN BLOCKBUSTER rounds out the group!!!! While gossip may be circulating that he can get a bit wild in his personal life, we can assure you there is no truth to these malicious rumors!!! The only thing wild about FABIAN is the frenzied reaction his powerhouse drumming provokes in audiences when COZY performs live!!!!
Now these four young superstars have joined forces with HOZAC RECORDS to release their debut single "COLA SHOCK KIDS!!!!!!" This raucous anthem brings the roof down whenever COZY performs live and it is a sure bet that it will soon set the charts ablaze like wildfire!!!! On the flipside COZY displays their sensitive side with the sweet ballad "SUGAR ON MY MIND!!!!!" Already HOZAC RECORDS and COZY'S management Razzle Dazzle Ltd have received cease and desist orders from the American Dental Association begging them not to unleash this cavity causing concoction upon the record buying public, but have no fear!!! COZY believes in always giving the people what they want!!!! And what hordes of frantic fans across the world are clamoring for is MORE COZY!!!! With more records and live appearances in the works, the ink still drying on innumerable merchandising deals, and a pilot being shot for the upcoming "COZY VARIETY HOUR" as we speak, the phenomenon known from sea to shining sea as COZY MANIA is only getting started!!!! Rest assured the boys are hard at work every day and plan to bring smiles to their fan's faces for many years to come!!!!
Remember, anything is possible with a dream in your heart and COZY on your turntable!!!!
Recommended If You Like:
Hello, The Raspberries, Slade, The Sweet, Angel, Bay City Rollers, Games, Mickey, Tuff Bananas
Check them out on Facebook HERE
————————–
RELEASES:
Button by Button debut LP (HZR-152)
GOLD edition of 150 : SOLD OUT
1st press Black edition of 550:
Available HERE:
——
'Cola Shock Kids' b/w 'Sugar On My Mind' debut 7″ (HZR-117)
1st press Black edition of 475: SOLD OUT
2nd press Red edition of 200 Available HERE:
——
'Cola Shock Kids' b/w 'Sugar On My Mind' 7″ (HZR-117)
Gold Edition of 200: SOLD OUT