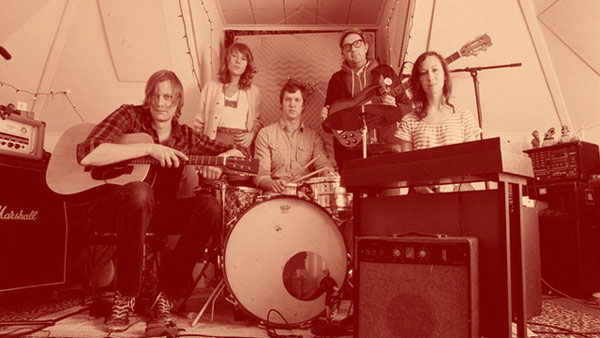 To say that we've been long-time fans of multi-talented Jered Gummere's many musical combos over the past 15+ years would be a severe understatement. From the bands he was wrapped up in early in his teenage years, such as The Muggles, Defilers, Real Cool Killers, and the formidable Guilty Pleasures, to his ascent to mainstream recognition with The Ponys, it's become clear that Jered is known as one of the most important songwriters of our generation. His influence on pop music over the first half of this century is undeniable, impacting most notably Jay Reatard, and much of the current Brooklyn sound, right up to all the modern bands that still try to capture that elusive something that The Ponys delivered on a nightly basis. Ahead of their time undoubtedly, and with that same pioneering spirit fully intact, Gummere's newest assemblage, Bare Mutants, coalesces all of the most pivotal nuances of his repertoire into a perfectly minimal, mid-tempo snapshot of this morosely powerful tone.
Adding in essential Chicago nutrients such as Seth from Mannequin Men on bass and Jeanine from The 1900s on backups and tambourine, along with multi-talented friends Pete & Leslie on drums and organ, Bare Mutants have come together as a tightly-wound, tense-yet-tranquil wall of sound that surges and ebbs within the raw emotion and gut-wrenching intensity of a band that's on its way somewhere big, and wide open. Both heart-crushing tracks on this debut single aren't going to quicken anyone's pulse, yet the solemn seduction that awaits you within these celestial grooves is immeasurable in its trance-inducing tension, as well as how deeply it'll be stuck inside your head.
Recommended If You Like:
Echo & The Bunnymen, The Pin Group, Dutchess & The Duke, Crystal Stilts, The Ponys, Medication, The Cure

Check out the Bare Mutants Coach House live session right here:

Bare Mutants – 6.18.11 from Coach House Sounds on Vimeo.
————————–
RELEASES:
'Without You' b/w 'Inside My Head' 7″ debut 7″ (HZR-099)
1st press Black edition of 475 (SOLD OUT)
2nd press Red edition of 200 Available HERE
——
'Without You' b/w 'Inside My Head' 7″ debut 7″ (HZR-099)
Gold Edition of 200 (SOLD OUT)